In Los Angeles, if you want to feel like you're not in Los Angeles, stay at the Chateau Marmont. It's the kind of place, hidden as it is off an elbow of the Sunset Strip, where you imagine homesick Europeans holed up between screen tests, drawn to its provincial layout and shadowy bungalows.
On this summer day, it's the Saturday Night Live cast members doing the holing up. Amy Poehler is sitting alone, and minutes later Bill Hader arrives -- you know, the guy who isn't Andy Samberg -- not to meet Poehler but to decamp to a back table. Meanwhile, a group of British entertainment biz dudes make an entrance dressed, as Brits in L.A. are wont to do, like 13-year-old boys from the Valley waiting for their moms to drive them to the beach. And then at 10:30 a.m. on the dot -- not a minute later, no sheepish apologies needed -- comes Ms. Lily Allen. If you'd been following the tabloids up until then, you might have thought it impossible for Allen to get out of bed this early, much less meet a journalist for an interview at the appointed time, all on her own. Weeks earlier she had to be carried out of the Glamour Women of the Year Awards in her hot pink Giles Deacon dress and even hotter pink hair. But as Allen sits down inconspicuously and orders tea, it's clear that she's in L.A. to work on her music, not her profile.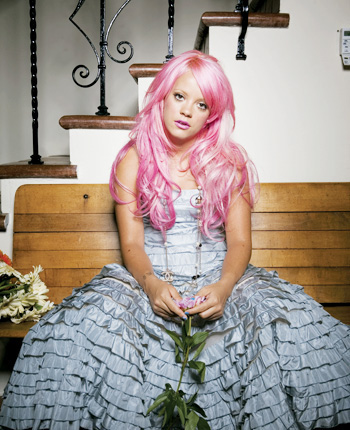 Her hair is still pink, though fading into a mellow strawberry ice cream color (after the recent death of her "nan" last June, she dyed it dark). In her videos, Allen usually looks like the heir to Shirley Manson -- she has that kind of character-as-beauty attractiveness that you see in the expressive eyes and rounded features of veteran British actress Dame Maggie Smith. In person Allen is much prettier and younger looking. Without makeup, in a brown and white sundress and flip-flops, she's even a little tan, a nice complement to her eyes, which are the delicious light-brown color of ice cubes melting in a glass of cola.
She explains that she has been going to bed by eleven, getting up at eight, and then going to the gym with her trainer. Nightlife has been limited to seeing The Happening ("awful") and Lil Wayne at the House of Blues ("amazing"). She's even thinking about remaking Wayne's "A Milli" as "Lilli" for the entrance music on her next tour. Kind of like how she remade 50 Cent's "Window Shopper" into "Nan You're a Window Shopper," one of many memorable tracks amid "Smile," "Alfie" and "LDN" on her 2007 debut Alright, Still. The album is a ska-soul-pop sing-a-long that made her the Gwen Stefani of the U.K. and earned her a gold record stateside.
Jacket by Zac Posen and necklace by Subversive by Justin Giunta. All makeup by Chanel.
Allen was her own best promotions department for the record, posting her songs on MySpace and blogging fearlessly (and hilariously) to find an audience well before her record company was promoting her. She said what was on her mind, even if sometimes that meant commenting on other people's lives -- at one point she called for anyone who bought Paris Hilton's record to be killed. "I'm famous for mouthing off about other famous people. I was very naïve," she confesses. "I wasn't seeking attention. I was just communicating." Karma's a bitch, and it goes both ways: "I thought I was hot until I kept reading about my 'unconventional' beauty." She has famously railed against the never-too-thin body image, and on this recent L.A. trip, Allen blogged about the virtues of local fast food phenom In-N-Out Burger, posting pictures of herself pigging out on a Double Double. She even has an In-N-Out screensaver on her laptop. But she embraces her contradictions enough to be more okay with what she eats than with how it settles on her hips. "I'm not killing it with my look right now," she says, and admits, "I'm not feeling a hundred percent comfortable with it."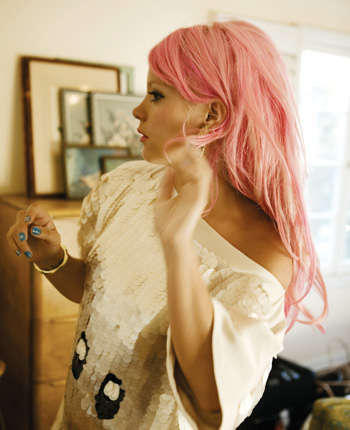 It's only because of Alright, Still's late-blooming success that Allen has the budget to come to L.A., although she has downgraded from the two-G-a-night bungalow where John Belushi died to a suite. "I couldn't afford it!" she laughs. "Plus, everything's recoupable." Meaning that in the end, she's paying for it herself. "I feel guilty bringing my producer Greg [Kurstin] to England [from L.A.], away from his wife all that time," she explains, lighting a Parliament. "The last trip wasn't very productive. I've never been good at working in London -- too many distractions. Too many people to go out and have lunch with." But you don't get carried out of the Glamour awards for having too much lunch. "Yeah, I don't remember a thing," she says of the incident, not so much as an excuse but just because, a) she still can't figure it out, and b) is it really that big a fucking deal? "I did drink that night," Allen admits. "I woke up in my bed at 8 a.m. and felt totally fine. So I Googled myself, and then I saw the pictures. It was awful. I can't believe I got into that state. It leads me to believe somebody put something in my drink or something. Because it's totally not in my repertoire to do something like that."
Still, with the year she's had, who could really blame her if it was? She split with her longtime manager and started dating Chemical Brother Ed Simons, became pregnant and prepared to start a family at 23. Then suffered a miscarriage in January, was institutionalized and broke up with Simons. "When I realized I was pregnant and realized I wanted to have the baby, I made a huge decision," she says. And though you might expect (and maybe even wish) for that decision to include stopping the supply of tabloid fodder, she offers a more proactive reason as to why she made the decision she did: "To make my life more stable." She bought a flat in a family-friendly London neighborhood that she plans to pay off within two years, and while she won't exactly admit the need to clean up, she doesn't duck the subject either. "I'm not gonna say I'm never gonna do drugs again. I just know I'm not a good person on drugs." Fair enough.
According to Allen, the biggest misconception people have about her is that she's out of control. "I'm actually a bit of a control freak," she says. As part of her therapy after the miscarriage, Allen had to sit in her room on her hands doing nothing. "It was the hardest thing for me -- my therapist says one of my coping mechanisms is to always be thinking of the way out. Like this hotel, I've memorized all the exits." Her candor is one of the things that has set Allen apart from other girls behaving badly -- unlike her American counterparts, Allen doesn't make excuses for herself or deny her actions. She has a knack for saying what's on her mind and doing what she wants in ways that elicit both sympathy and outrage. "I think I've been more cautious about journalists," she contends. And in turn, they're becoming more cautious about her. In an interview with Perez Hilton, the gossip queen cautioned: "It's always dangerous when you're known more for your behavior than your music." And went on to say that he's "disappointed" by what he's heard of her newer material. "Her life now is not what I'm interested in. I want you to think about what you're writing. Songs are supposed to be timeless... Amy [Winehouse] is a fuck-up, but she still sold two million records. If [Lily's] not successful, no one is to blame but herself."
Not surprisingly, Allen's producer Greg Kurstin sees it from a different angle, although he doesn't entirely disagree. "She puts a lot of pressure on herself. I've seen her go through a lot of transitions. Lyrically, she's a lot more political. And she's drawing from more personal experiences." As such, one of those experiences is her own ambivalence toward her celebrity -- written about in the song, "I Don't Know," Allen's numb ode to fabulousness à la Iggy Pop's "Nightclubbing." "I just write what comes out of my head. It's not intentional," says Allen. "I just can't do anything else." Remember too that this is someone who has tattoos around her wrist of an Om, Star of David, Buddha, the Islamic crescent moon and star, a cross and Homer Simpson. "I'm not interested in writing twelve love songs," she contends. "I don't think I'm good at love songs. I'm not really good at being in love," she chuckles. "The other thing is to write about the world without being preachy, which is hard."
So far she's doing a good job. The new album, tentatively titled Stuck on the Naughty Step, is more accomplished and varied than its predecessor. "He Wasn't There" is a letter to her dad that picks up where "Alfie" (about her brother) left off. Then there's "CCR," in which Allen suggests that God was in the world prior to 9/11 and that "his favorite band is Creedence Clearwater Revival." Kurstin laughs about the song: "I can't imagine anyone [else] in England using that as a reference. It's typical her -- unexpected." The humor's more coal-black, too: "Not Fair" is about a guy who is wack in the sack, even though she's "spent ages giving [him] head." And on "Everyone's At It," she tells it like it is -- or was: "When will we tire of putting shit up our noses?/ It's meant to be fun but it just doesn't feel right."
If Naughty Step sounds like a 23-year-old trying to find her voice, that's because it is. Not to say Alright, Still was a fluke, but that this record is more of a risk. She co-wrote the songs sitting with Kurstin at his piano, which is way harder than writing lyrics for finished tracks, as she did before. And though she's had premature segues into TV show-hosting and putting her name on a fashion line in the past two years, she won't go back to any of it if music doesn't work out. "I wake up every day and think I'm actually pretty bad at it. I work hard at getting better. But if this record flops, I'll probably go back to school," she ponders. "I've always liked architecture." And with that, it's time for Allen to head back to the studio with Kurstin and the piano to get out whatever's on her mind -- God, Allah, Yahweh, Buddha, Krishna, and Homer willing.
Hair by Johnny Stuntz at Photogenics beauty at smashbox * Makeup by Amy Chance for Chanel/ celestineagency.com * Manicure by Miranda Auty * Photography assistant: Daniel Hebert * Stylist's assistant: Philip Roberts