Lena Dunham had Gigi Hadid pen an essay for Lenny Letter about the unfortunate incident last week during Milan Fashion Week, where the supermodel was quite literally picked up and assaulted by known celebrity stalker/assailant Vitalii Sediuk. She fought back, elbowing Sediuk in the face and chasing after him.
Hadid was compelled to touch on the matter in the wake of the media's chastising of her fighting back, with ghoulish headlines like "Gigi Hadid Lashes Out At A Fan."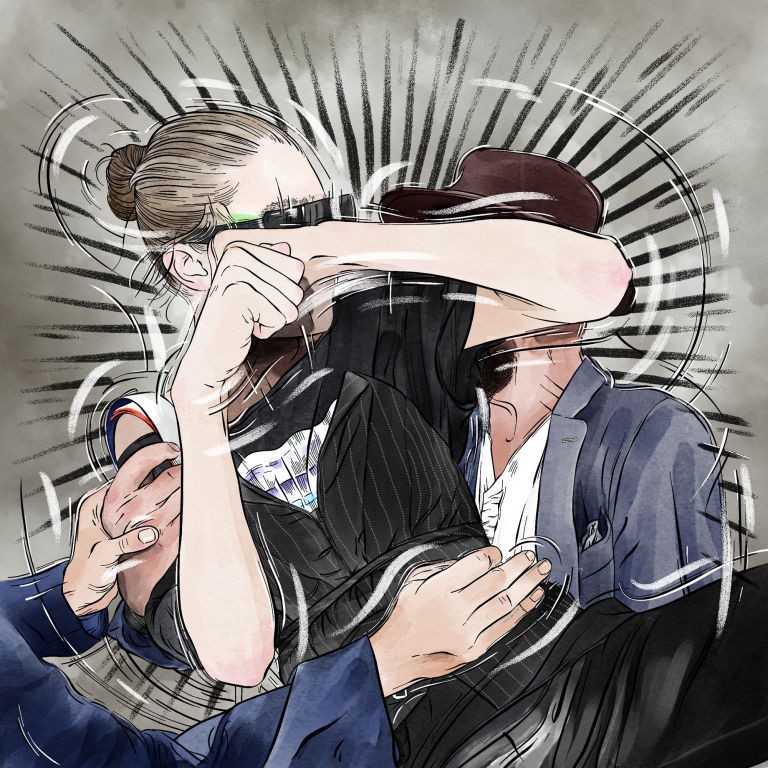 via the artist Laura Serra, for Lenny Letter
Dunham perfectly summed up the internet's backwards response to Gigi's badass reaction, stating:
While support eventually poured in, the first reactions from the Internet attempted to paint Gigi as rude, bratty, and ungrateful for the blessing of fan attention. The logic behind that response seemed to be that because she has chosen to have a public-facing career, one in which her sexuality often takes center stage, she has also implicitly asked to be manhandled.
She drew this into the larger scale issue of our cultural complicity in sexual harassment of women; how women are just supposed to deal.
What's even more sobering about this assumption is that it doesn't just apply to celebrities. While street harassment is an under-researched problem, existing studies show its prevalence around the globe. In 2014, Gallup's annual crime survey revealed that 37 percent of American adults would feel unsafe walking alone near their home at night. Forty-five percent of women expressed this fear, compared to 27 percent of men. These statistics spike upwards in developing nations.
Gigi's own account of the situation is chilling, but describes how her body went into survival mode:
I remember taking the time, as it all felt slo-mo, to look at him, a stranger, and my first reaction was: "Get me out of this situation." I played volleyball, and my coaches talked about muscle memory. I started boxing two years ago and I always remembered that. Since then, I hadn't been in a situation that forced me to fight back, but it just came out when he grabbed me — it wasn't a choice. I do have that fighter in me.
She affirms her right to defend herself, despite the media's sexist bullying of her reaction:
Honestly, I felt I was in danger, and I had every right to react the way I did. If anything, I want girls to see the video and know that they have the right to fight back, too, if put in a similar situation. Practicing self-defense is important so that when you're in the moment, reacting from muscle memory comes more naturally to you than freezing up. Confidence in your own ability to defend yourself comes with educating yourself about it, and is a massive advantage when in an unsafe situation.

The first article that was posted about the incident was headlined: "Not model behavior. Gigi aggressively lashes out and elbows fan in the face after he tries to pick her up. The supermodel angrily hit an unknown man before running to her car." That's when I really got pissed. First of all, it was a woman who wrote the story with that headline. What would you tell your daughter to do? If my behavior isn't model behavior, then what is? What would you have told your daughter to do in that situation?

When my mom first saw what had happened, she texted me the picture of me elbowing the guy and (among other messages of support) said, "Good girl." My mom has taught me the power of my instincts since I was a kid. She'd always be like, "OK. Pay attention to the people who make you feel uncomfortable. I want you to tap into that and be aware of it." I continue to use that intuition with the fashion industry and the people who I have to be around. It usually guides me pretty well. I think it guided me in this situation, too. It sounds cliché to say it, but in the moment, it wasn't heroic to me. It was just what I had to do. It's very touching to me that people see it that way. I know people are put in much worse situations every day and don't have the cameras around that provoke social-media support. I just want to use what happened to me to show that it's everyone's right, and it can be empowering, to be able to defend yourself.
Go off, Gi.
As Lenny Letter describes her: Gigi Hadid is a supermodel and social-media maverick, and she has a mean left hook.
Header photo via Matteo Prandoni/BFA.com