Get Your Skate On at the High Line Rink!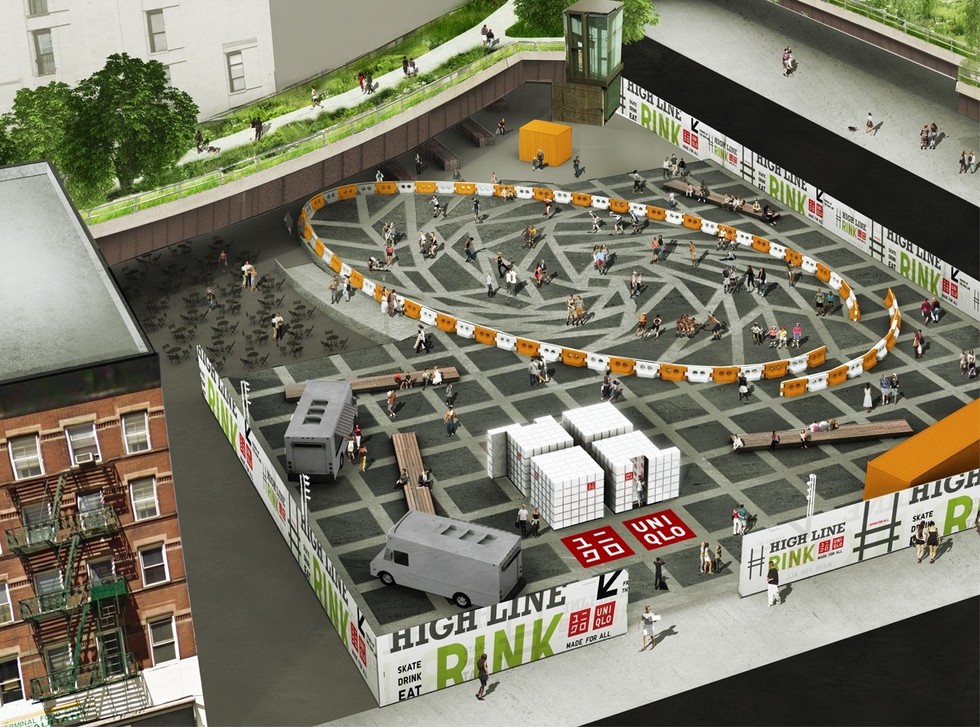 Get excited --
Uniqlo
, one of our favorite bargain one-stop shops, unveils a new outdoor-skating rink today at the High Line!
The High Line Rink
is open through late September and is one of the only open-air roller-venues in Manhattan (that is, if you don't count the truly amazing skating near Central Park's Sheep Meadow on the weekends). The rink, located in the Lot, the temporary plaza under the Highline's new extension at West 30th Street, is gloriously spacious and allows for plenty of elaborate freestyle choreography. The Lot also includes a Uniqulo pop-up shop where the kids can purchase all their favorite styles at the usual affordable prices. From 100% cashmere sweaters to premium down jackets and their renowned Heattech wear -- it's all there. The rink itself isn't too shabby, either, and was made with re-used materials including construction barriers and original steel beams that were removed from the park during its construction. The High Line Rink will also offer a rotating series of food trucks and beer, wine on tap and a full outdoor bar operated by Colicchio & Sons (wine and skating sounds like a dangerous combination, so pace yourself).  Regular admission to the rink costs 12 bucks and includes your rental skates. Heads-up: admission will be waived for the first 500 people on the first two days of operation, so lace up those skates and get rollin'. 
High Line Rink
West 30th Street and 10th Avenue
July 28th through September 26th
Hours: Sunday-Wednesday 11am-10pm; Thursday-Saturday, 11am-11pm
www.highline.org