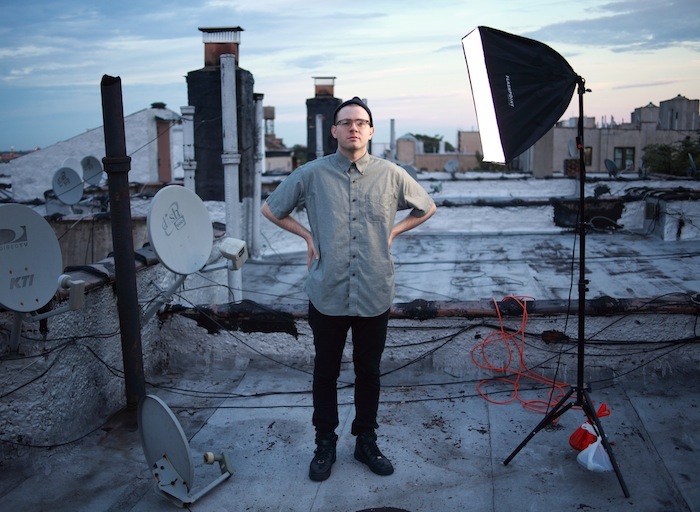 In the two and a half months since releasing his sophomore album,
Nonfiction
, The Range (a.k.a. James Hinton) has seen no shortage of positive feedback, whether in glowing reviews from
XLR8R
and
Pitchfork
(who also gave the record a spot on its
Top 50 Albums of 2013
list) to packed headlining sets in venues coast-to-coast. One of the most telling examples, though, may have been the cooing praise from nearly every cool chick who worked at Rough Trade -- the new Williamsburg outpost of London's legendary record store and label -- when I stopped by to find out if they carried the album. (For the record, they don't have it yet. You can buy it
online
instead.)
That the 25-year-old, Providence-based producer has found favor makes sense -- the songs  on
Nonfiction
are artfully complex constructions heavy on breakbeats, plaintive piano chords, and distorted vocal samples mined from the outer reaches of YouTube. There's also a sense of precision to his tracks, reflective of Hinton's background studying physics, cosmology and math while a student at Brown University. After a recent show at Williamsburg's Glasslands Gallery, we caught up with Hinton to discuss the evolution of The Range, the benefits of making music in Providence and "Hold Tight" by Justin Bieber.  

Tell me about the origins of The Range.
I played guitar and drums in college but one day my sophomore year I heard my friend, who was into electronic music, messing around with [DJ software] Traktor in his room and that's what first got me interested. I popped out and was like, "What are you doing?" From that point on, I got really interested in the idea of cutting up vocals. I grabbed an R&B;/hip-hop acapella [vocal sample] pack that had Ashanti, Aaliyah, probably 5-6 Notorious B.I.G. samples, Puff Daddy's "Mo' Money, Mo' Problems" on there and I started playing with it. I started calling the project Stegosaurus and back then, I [was influenced] by what Justice were doing and Baltimore club music and Rye Rye and all that stuff that was happening on Mad Decent. Then I progressed and got more into a lot of jungle and footwork around 2010. Around that time, I opened for a Big Boi concert at Brown and that show was the first time when I thought of The Range project. Three months later, I put out my first track under that name in January of 2011.
What made you realize that The Range was going to be distinct from your previous work?
The tempo is a lot different in The Range stuff compared to Stegosaurus. But more than anything, what makes The Range different is the full commitment to sampling. There's a lineage between the two but it's hard to pin it down exactly.
What were you listening to or getting inspired by during the recording of Nonfiction?
I was really getting into grime like [British production group] Ruff Sqwad. There was also this one mixtape that this legendary drum 'n' bass guy, dBridge, did that I was listening to pretty much for the entire duration of recording. I would go back to that mix over and over again when I was traveling a lot in the car [to play shows] so it became a touchstone for me.