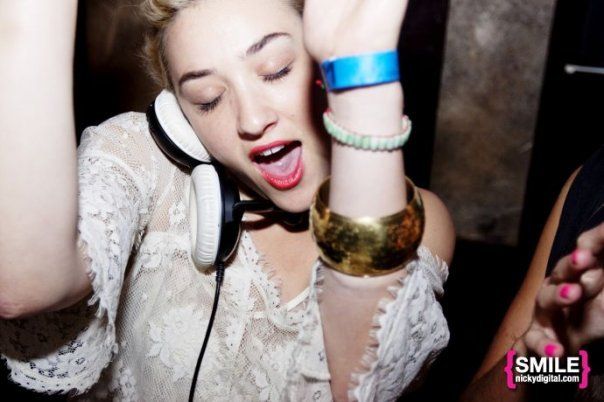 If you have a Macbook, a hipster approved iTunes library and a fedora collection, you might want to consider a career in DJing. But not so fast! Not all DJs are busy posing for nightlife photogs while their iPods are getting its shuffle on. Introducing (for the unlucky ones lacking the member's only Eldridge card) DJ Mia Moretti. And she's got a lot going on for her: the is-that-Chloe-Sevigny? looks and impressive DJ credentials including touring Europe with, you know, former PAPER cover girl and buddy Katy Perry (On that note, kind of obsessed with Mia's "Waking Up in Vegas" Baby Grand remix). When we met up to chit chat, we both shared something in common (hangovers) and agreed on the perfect remedy (nachos and beer). But her hangover source (hitting up DJ Cassidy's celebrity soiree at the Public Library before jetting to work over at Rock Wednesdays at the Eldridge) was a lot cooler than mine (an unfortunate late night shit show at the not-so-chic the Cock). Move over SamRo: Mia doesn't just party like a rock star, she is one. Read on for proof.

What song are you obsessed with at the moment?
Right now I always play Fleetwood Mac's "Everywhere." It's so good. I can't really get away with that everywhere though. Like I tried to play it at Georgica in the Hamptons. They didn't want Fleetwood Mac -- they wanted Beyonce. When I have to play really cheesy, I try to play like old Destiny's Child like "Bugaboo." Because I actually really like that stuff and you don't hear it. I try not to play shit you've heard like 10 times that night. I hate when you walk into a place and it just sounds like every other place.
How would you compare the DJ scene in LA vs. NY?
It's interesting because when I started DJing in LA, I was playing mostly electro -- like Justice and Simian Mobile Disco and electro-rock. And when I moved to New York like a year ago, I was so sick of MSTRKRFT and all that shit, and by the time I moved here it was just getting popular. Hip-hop has been popular in New York I feel like until up until last year; last year electro kind of got big. I had to kind of learn how to play hip- hop because I never played hip-hop in LA. But out here, one of my first DJ gigs, they wanted hip-hop all night. And I was like "Fuck, do I have four hours of hip-hop on my computer right now?" But also, Serato, the program I use, got popular in LA a year before it got popular in New York.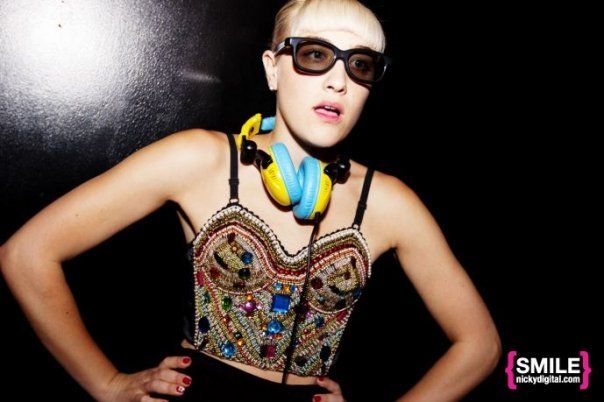 So are New Yorkers more focused on their dranks and pretty people than the music?
It's just a different style of DJing. In New York, there's the whole DFA scene -- really into disco and almost vinyl snobs. Really into their records. And I remember seeing Justin Miller playing records and I was like "Fuck!" I learned on records because my friend who was teaching me forced me to and took me record shopping and all of that. But once I kind of learned, I switched over to Serato. The style of DJing in LA was more forefronted by DJ AM and doing the mashup kind of style, and using Serato for that style DJing is a lot more convenient. Because you're mixing the songs a lot more or looping a cappella over something. That's the thing in LA -- there are actually clubs here who just play off of their iTunes. They don't mix at all. But maybe it's because there's just so many fucking bars in New York and they need more DJs. But in LA, you would never see a DJ with just an iPod.
Would you say DJ AM introduced you to the DJ world?
DJ AM taught me a lot. Before I ever wanted to DJ, he was a friend of mine and I used to go wherever he was playing. I didn't really know what a DJ was doing until I heard him play. And then he gave me turntables and taught me the basics kind of. But it was actually Luke [McFadden, of Cut Chemist], who's an amazing DJ as well, who took me record shopping and actually put the pieces together for me -- because what Luke does is really tel a whole story. You wanna create a flow. I like playing songs for a reason. Not just like "oh, this song and that song."
So you never have a set playlist or anything?
No, I never plan it out. I always feel it out. You never know -- I might make a crate, which is kind of like a playlist, with like 500 songs that I think I might wanna play to kind of narrow it down so I don't have to search for every single song. There's always a reason you play the next song. You can tell when you play a Tom Petty song and a bunch of people get really excited -- because they're gonna like old rock 'n' roll or kind of like the down home stuff. But sometimes you put it on, and people have no idea what it is and you're like, "OK!" That's when I know I can't play Stevie Nicks next.
Who are you favorite DJs and why?
There are two resident DJs at Le Baron in Paris that I fell in love with when I was there -- the cutest girl named Sunshine and an equally cute boy named LeAm. They play a lot of the good rock 'n' roll and oldies and disco that you hear at, say, Beatrice, but they actually mix, so it's not just an iPod shuffling your favorite tunes. They are great DJs with great taste in music -- they aren't trying to show off or prove themselves, which I find obnoxious sometimes. I don't think you have to scratch and cut a lot or play mash-ups to be considered a good DJ... especially when a lot of the DJs I've heard lately that play like that are actually just playing pre-made mashups and other people's mixtapes and edits. I hate that.

Tell me about some of the craziest/most fulfilling DJ gig you've had so far.
Hands down, without a doubt, it as the Life Ball in Vienna, Austria. That's the craziest party I've ever seen, imagined, dreamt of. I couldn't script a better party.

Favorite places to shop for your signature bedazzled corsets and such?
Anica in San Francisco, Pop Killer in LA... and Pat Fields, Pat Fields, Pat Fields! But the sidewalk sales are the only place I purchase; it's kinda more my price point.

So what's the biggest perk of being a DJ?
Getting to listen to music all day and work with other artists; that's really a dream come true.
What's up next for Mia Moretti?
I would love to do music for fashion shows -- collaborating with other artists is the most inspiring thing for me as an artist. I've been doing a mixtape every season for this great line out of San Francisco called Rosenmunns. It's kind of a soundtrack to the collection. I always look forward to doing that with them because they are two of the most creative and unique people i know. Also, hopefully I'll finish the EP, "Nightshades," I started with my friend Marcelle from Voomz, but right now we are geographically challenged.
Photos by Nicky Digital