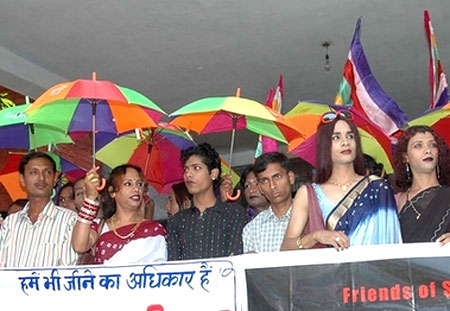 Mr. Mickey is pleased to report that there seems to be some exciting gay movement in Asia!!! And we're not talking about a convention of Rice Queens in Bangkok!
MM read on Towleroad, a fascinating gay blog, that there was a gay equality demonstration in Patna, India and Mr. Mickey says, "you better work Indian gays and gals!" It's illegal to be gay in India thanks to an old British colonial law. As Mr. Mickey gets older he feels like anyone who wants to discriminate against any person for any reason can just fuck off and die. Not just the gays. Any sexist or racist must be neutralized. Whether it's someone harassing a girl on the street because she's hot or whether it's German chancellor Angela Merkel saying she thinks Turkey shouldn't be allowed in the European Union. I'm sorry Angela. I'm excited that a woman is leader of a huge economic power but you're a racist and you can fuck off! This Patna demonstration is a small step for gay equality but an important one.
Meanwhile in China, MM was excited to read about a new Chinese TV show about the gays called Connecting Homosexuals. The show will cover gay interest issues (and no that doesn't mean Liza Minnelli) and even have a blind date set-up segment. When it comes to human rights in general, China is pretty piss poor but we at the MMBlog applaud this step. After all, communists can enjoy hot man-on-man action as much as the next group!