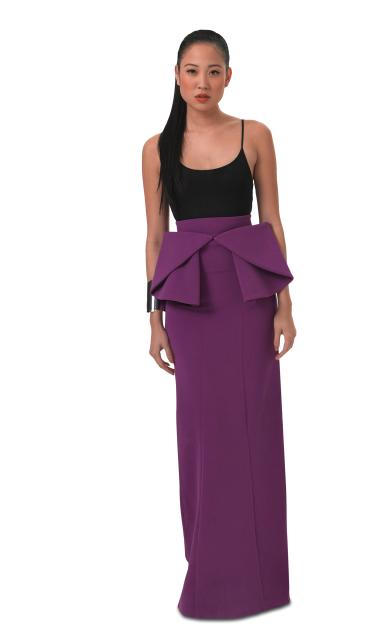 Bravo's reality series,
Gallery Girls
, follows a group of seven "dynamic and ambitious young women in New York City who tackle the cutthroat environment of the art world while vying for their dream jobs." The cast includes former Paper intern and occasional Papermag photographer
Angela Pham
. (Full disclosure: Paper was filmed interviewing Angela for her position and we'll be watching that scene, should it make it to air, in the fetal position while chugging wine. Papermag contributor
Alex Catarinella
is on the show, too, playing, as he put it, "the gay best friend.") Despite the show's naysayers, Pham, who is a party photographer for Billy Farrell Agency as well as Refinery 29, has our support in her reality TV endeavors and we're excited to see her on the show. Below, we chatted with her about filming, taking her clothes off in front of the camera and her co-stars.
How did you get asked to do this show?
The show had been in the works for a while. Longer than I've been involved. Chantal Chadwick, who is also on the show and who is the owner of the store
End of Century
, is a friend of mine and told the producers about me. She was cast a long time ago, before even Bravo was involved. And then we started filming the show in the fall.   
Did you have any reservations about doing the show?
I was pretty excited. This seemed like something that I was born to do. I've been watching Bravo since my most integral high school years and have always been impressed with reality television. Especially the
Housewives
[series]. Bravo is so zeitgeist-defining within the reality franchises and were seminal with the reality competition format, like with
Top Chef
and
Project Runway
. But, yeah, at the same time I knew that I was going to get a lot of shit from my Brooklyn hipster friends for doing this show. 

Did you know any of the other girls in the show beside Chantal?

I knew Claudia as well. We're 'the Brooklyn Girls' on the show and we've been friends for a while. We all have the same interests and same friends and we all hang out together. We're all very tame and all kind of old for our age. We don't party 'til 6 .m. We just like to have pot lucks and hang out and cook together. We like to travel together when we can afford it. We're sort of boring in that sense.

Why do you think producers made the show about the 'Brooklyn Girls' versus the 'Manhattan girls?'   

I mean, you know it's the show Girls and stuff like that. Brooklyn is just kind of a thing these days. There's a fascination in it. The show Gossip Girl had a similar thing, where they put huge emphasis on uptown versus downtown or Brooklyn versus Manhattan. But I think the fact that it's emphasized on [Gallery Girls] did provide an interesting dynamic and thread through our show. People will probably hate our characters, the 'hipster characters.' I think there's a knee-jerk reaction for people when they see their world or their culture or whatever mainstream-ed and on Bravo. There's a need to make fun of that.

A lot of the early press for this show has criticized it as being about spoiled rich girls and trust-fund types. You wait tables to support yourself, right?

Yeah, I wait tables. But it's also true that we're all wealthy kids. New York is an expensive city to live in and even though I work in a restaurant, I still get help from my parents. And so does Claudia. So, yeah, there's some truth to that. But at the same time, all of the girls on the show grew up with very different backgrounds. I'm a first-generation American. And my parents would never spend money on anything outlandish. They're very practical with their money.

What do your parents do?

They're both doctors. And they wanted me to be one too. But I think they came to terms with the fact that that was going to happen and that I wasn't going to become anything 'real' by like my second year at NYU. They're happy now that I'm working and I think they're concerned and wish I wasn't waiting tables but they know that I'm serious and career-minded and that something will happen for me soon.

You work at the Commodore in Brooklyn, correct? And you also do party photography for Billy Farrell Agency?

Yeah, but the Commodore didn't want to be on TV so I couldn't really be filmed at work. I'm not sure how much of all of that is actually depicted on the show. But, yeah, the BFA stuff is taking off and I'll be busy with that in September for Fashion Week and all of that.
  
How much of the show have you seen?

I've seen the first episode.

Do you think you're portrayed accurately?

I think it accurately portrayed me enough. I think they definitely hyperbolized aspects of my personality. But it's not like an all-encompassing, nuanced portrait of Angela Pham or anything. It's TV. 
  
Have you read any of the press about the show? Or the negative press about it? 

I haven't read too much. I've kind of avoided it. I mean, if people hate it ... I think any sort of strong reaction is a good sign.

I read one review that said you talk about yourself too much. Do you think that's true?
 
That's so ironic because I've met some other girls on the show and they really have no sense of self-awareness whatsoever. They could just talk about themselves for hours and hours. But I'm definitely narcissistic. There's some truth to that. And I do get naked on camera, which I'm very happy about.

Do you think that being on this show will help you with your career as a photographer?


Yeah, definitely. Right now I don't have a real career or reputation. I have a reputation as a party photographer and I don't think that will be compromised because of the show. I had qualms about being on this show but I like taking risks. And I know that risks that I've taken in the past have always paid off in the end. My mom is so worried that my reputation is going to be sullied from this show because I told her that I said some salacious things, which is an understatement.

Gallery Girls debuts Monday, August 13th, on Bravo.