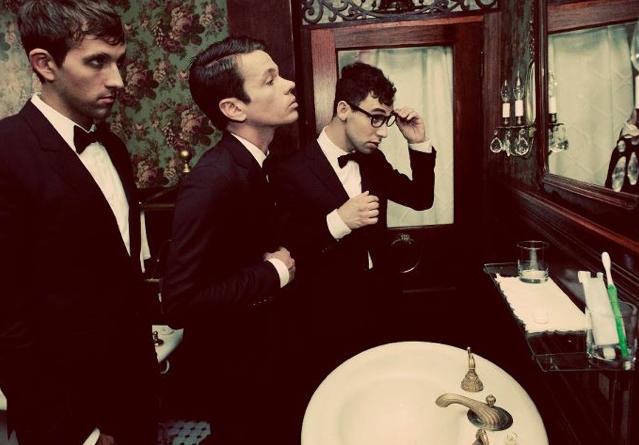 PAPERMAG recently caught a a gig by much-buzzed-about pop trio
Fun.,
at the Lower East Side's Sons of Essex.
To no surprise, the group (who you probably know for their smile-inducing anthem "We Are Young," which has made an appearance on
Glee
and in that Chevy
Super Bowl commercial
) killed it, and will likely continue to do so as they tour the country in support of their hit sophomore album
Some Nights
. (The album debuted at #3 on the Billboard 200 last month.) We sat down with singer
Nate Ruess
to talk about how the band got started, what it was like working with
Jeff Bhasker
,
Kanye West
's production partner, and why "Fun." has a period at the end of it.
How did the band first come together? You used to be in The Format, Andrew [Dost] used to be in Anathallo and Jack [Antonoff] was in Steel Train.

I had toured with Jack and Andrew when they were in those bands, and over the years I just kinda kept tabs on people -- it felt sort of like being a talent scout, keeping an eye on people I thought were the best at what they did. I guess I liken this to the ['92 Olympics] Dream Team -- Michael Jordan, Larry Bird -- that's kinda what I consider them to be. As soon as my other band had ended, I called them up, since they were at the top of my list, and luckily they made time for me.
The whole thing seems pretty natural.
I feel like we are a very unique bunch unto ourselves. Jack and I had already known that about each other, but we weren't really sure how Andrew was going to fit into the situation -- we thought he'd be real "touch-n-go," but he turned out to be pretty much the exact way we are. We can probably only name a few other people who share the same type of levels of weirdness that we do.
And the record is weird -- a good weird! But nonetheless, weird. There's something theatrical about it that reminds me very much of Queen, especially the song "Some Nights."
Pop is lacking the theatrical element, and it's not something we do consciously -- I think it's more inherent. I had an uncle who was on Broadway, and that was the first time I thought, "Well, maybe I can sing." Most of my friends, when I was in punk bands as a kid, would tell me I couldn't sing, and I'd say, "No, my uncle's on Broadway, I can sing. It's genetic!" It's something that feels like it's a part of us, though, but on this album we tried to scale that down a little bit. I write full songs in my head and don't play an instrument, so I have to sing it to [the other members] and explain stuff and then we figure it out. I think because of that, things become very theatrical, because I guess I don't think up songs in a very by-the-book type of style.
Even "We Are Young" switches between two separate tempos, which is pretty radical for a successful pop song.
And that was a trip! I had a meeting with [Kanye producer]
Jeff Bhasker
and sang him "We Are Young" -- the other guys hadn't even heard it yet. I remember he was so psyched about it that we went into the studio a few days later, and we were working on the song, and I was so worried because this was the guy I wanted and I didn't want to offend him in any way. The chorus isn't the same speed as the verses -- it's almost double time -- so I said to him, "I don't know if you know how to do this, but where I'm from, we build songs on a crazy map based on my vocal." He didn't know what I was talking about -- they don't do that in hip-hop. But once I showed him, he was freaking out. He loved the fact that the song changes tempo so many times. It can be a bit of a math problem, but it's who we are.
What's up with the name?
We just remembered this -- we have a friend who's a comedian, and we were at his show at The Comedy Cellar, sitting around and trying to figure out band names. Someone said "Ice Cream," and I remember I was so mad -- I was like, "If this is where the band is headed, I'm out of here." But I did like the feeling that it conjured up, and so Jack said "What about fun?" At first we were like, "No, no, no," but then we were like, "Wait -- it's short, simple, to the point...yeah, why not?" So our manager at the time had asked us to Google it and make sure no one else had the name. But when you Google "fun," all you get is kids on playgrounds and stuff, so we were like "no, no band's named 'Fun!'" After we had already been on tour for six months, we got an e-mail from a Swedish Grindcore band saying "that is our band name,you can't use it," but then it turned out they were super awesome and just wanted us to change it up ever so subtly. The period felt natural because then we could be sarcastic. I would kill myself if this band was called "Fun" with an exclamation point -- we get enough puns already on an hourly basis as is.
Watch the video for "We Are Young" below:
Photo by Lindsey Byrnes.