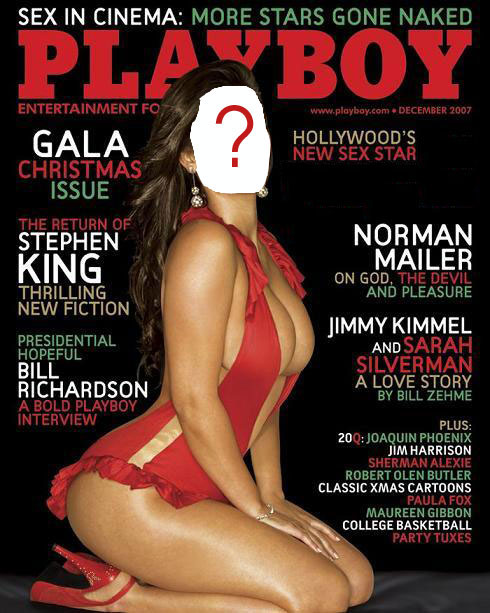 So apparently, 
Lindsay Lohan
was offered a sweet $1 million to pose for
Playboy
. With nudity on the brain, we decided to do a quick office poll to see who else the dirty minds of
Paper
would like to see nekked in
Playboy
and (because there are very few straight men here on staff)
Playgirl
.
Mickey Boardman, editorial director
"Kelly Cutrone, because it would just be such a curve ball and a surprise.
Mayor Bloomberg, because I have a fetish for old Jewish men. I would have said Barry Diller, but wouldn't want to make my girlfriend Diane von Furstenberg mad."
Hunter Hill, associate publisher
"Jennifer Hudson because I'd like to see what her new body looks like.
George H. W. Bush, because I like a big bush.
And Andy Cohen, of course. Though I could just as easily see that in person."
Janjay Sherman
,
publicity manager
"My girl-crushes, Rihanna and Megan Fox: Maybe seeing them in the nude will finally inspire me to put down the Doritos and get in the gym."
Erica Cohose, executive director of sales
Kirstie Alley, because she lost a lot of pounds but still has curves.
Eddie Cibriani, just because he's effing hot!
Kate Sculley
,
advertising coordinator
"Beyonce. Is she pregnant or not!?  Let's see once and for all!"
Whitney Spaner
,
managing editor

"Hugh Jackman. Tap-dancing."
Jamie Granoff
,
marketing manager and online advertising manager
"Dame Helen Mirren and Robert Pattinson.  Maybe a joint centerfold?"
Nikki Brown
,
marketing assistant
"Alexander Skarsgard and Steve Buscemi. Skarsgard is purely visceral, and the thought of Steve Buscemi eyes on a glossy, nude Steve Buscemi gives me fever."
Anton Brandt, marketing assistant