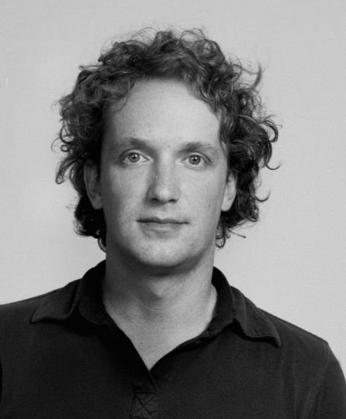 I'm completely exhausted from running around yesterday, but it was a really fun day. I started the day off welcoming a few friends, Minda and John, who'd flown in from Minneapolis to join me in my crazy Frisco inspiration tour. We started out at the farmers market for breakfast, which consisted of ripe perfect peaches and homemade -- yes, homemade -- cottage cheese... I'm telling you, these food people are crazy here.
We then hopped over to the studio of the designer Yves Behar (he's the cute guy pictured at right), who gave us a fantastic tour of his company (called fusebox)'s headquarters. He is really a nice guy and I'd never really known all the stuff he has designed, but he showed us everything -- from his dildo designs in progress to his rubber shoes to his new chairs to watches to water bottles. But the most exciting thing we saw was the new super-inexpensive laptop design he created for the brilliant Nicholas Negroponte's "One Laptop per Child" project. I'd heard about this for quite a while, but to hold this $100 laptop in my hands (see photo at right), and see how cool it it and how amazingly it works (it's kind of like a mix between an iPod and a computer), was fabulous. (Read about the project here.) The deal with these laptops is that they are being sold in mass quantities to governments of countries in Africa and other nations where the kids live in villages with no electricity (or limited electricity) and have never even seen the Internet. Don't ask me how it works, but the computer itself actually creates wireless networks so all the kids can communicate with each other (with video and sound!) and can surf the net. It's AMAZING and is a huge success so far.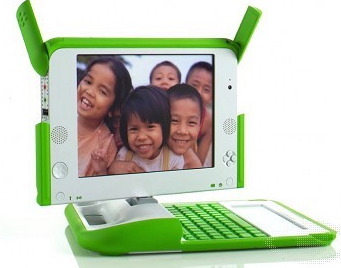 Next, we checked into the MAC (Modern Appealing Clothing) headquarters, where our friends Ben and Chris took us around their nabe to see a few cool shops like Rose and Radish (a very cool design store), Lemon Twist (a super cute clothing store) and an outrageous coffee stand where the kids who ran it were so hardcore they wouldn't put my machiato in a paper cup because they said it would get cold. Someone has GOT to do a spoof on this hardcore food attitude in San Francisco. GET THIS: we went to a café for lunch and I ordered a tuna fish sandwich (of course on bread from blah blah blah with radishes from blah blah blah and lettuce leaves from blah blah blah...) and I asked for some tomato on it and the waitress looked incredulously at me and said, "We cannot give you tomatoes on your sandwich because tomatoes are not in season." This, folks, explains it all. If it ain't in season or grown within 100 miles you won't get it. It's fascinating.
We then embarked on our tour of the Mission, stopping at Dave Eggers' (of McSweeney's fame) famous pirate "shop" slash educational center, and then to Jack Hanley to check out Tauba's awesome, mind-bending one-woman show there. This was the best show I have seen anywhere in ages. Then onto the Luggage Store to see what my new friend Laurie does. The super-political show was by an artist Rigo 23, who had drawn murals recounting historical, socio-political moments in San Fran since he'd been living there. It was really a good show. We finally ended up at a crazy dinner at one of Frisco's most revered restaurants called Quince. (See photo below of Ben Ospital and Creative Growth director Tom Di Maria.)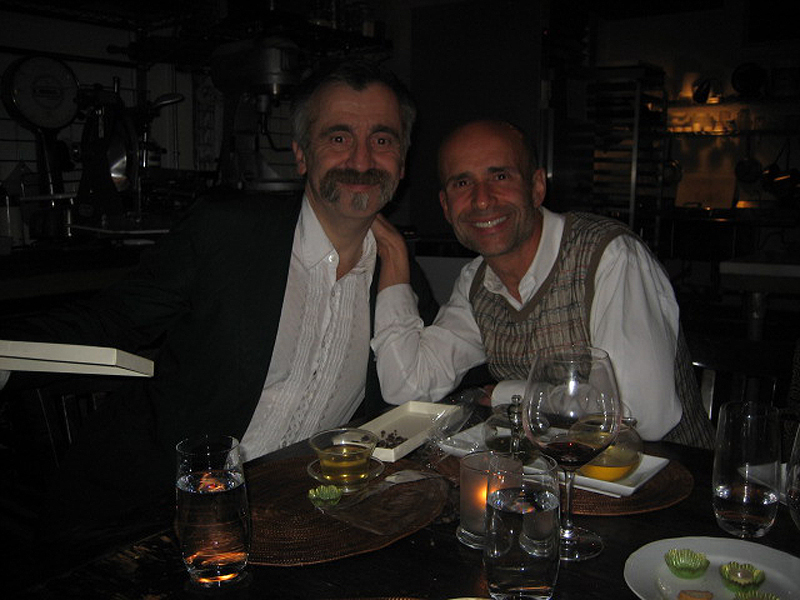 The crazy part was that we ate in the kitchen because Ben knew the very cool chef and owner Michael (who doesn't Ben know?). So we sat at this beautiful table smack in the middle of the kitchen and just ate what Michael cooked us. Truly incredible. One more day left... Check out this photo of the three crazy girls. It's (from left to right) Tauba Auerbach, me and Luggage Store's Laurie Lazer. I love this photo!