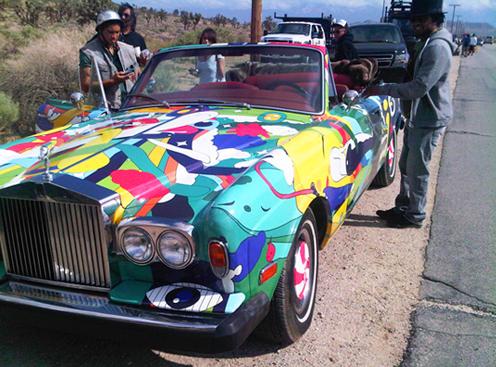 N.E.R.D
is "Hot & Having Fun," or so it seems in photos from their new song's video shoot featuring the band cruising around in a custom Rolls-Royce phantom drophead coupe painted by Miami art collective
FriendsWithYou
. Tamara Warren from car site
Gotryke
got the scoop from FWY's
Samuel Borkso
n and
Arturo Sanduval III
about the fast and furious magical explosion they created for
Pharrell
and co.
Is this the first painted car pulled off by FriendsWithYou?
We have designed other wraps for cars before but this was by far the most intricate and insane one we ever did.

What was the process like?
Super fast and furious, pun intended. We basically started this off as a sketch, put it into Illustrator to continue to tweak the design, came up with a color palette, and made sure the design was going to apply to the car perfectly. Then we applied the magic directly to the car and watched it sparkle as it came alive.

What was the inspiration behind the design?
Pharrell wanted something that was FriendsWithYou mixed with the vibe of Yellow Submarine somehow. We love this imagery and made our own psychedelic explosion all over the car and titled it "Magical Explosions."

How long did the process take?
About a week! Please don't try this at home. This was extremely fast and barely made it to reality.

Anything special about your design that we should know?
This was an amazing opportunity to turn such a classic car into a living and powerful magic spell. We love N.E.R.D. and are very thankful they asked us to do this for them.

For more car-related tidbits, visit Gotryke.com