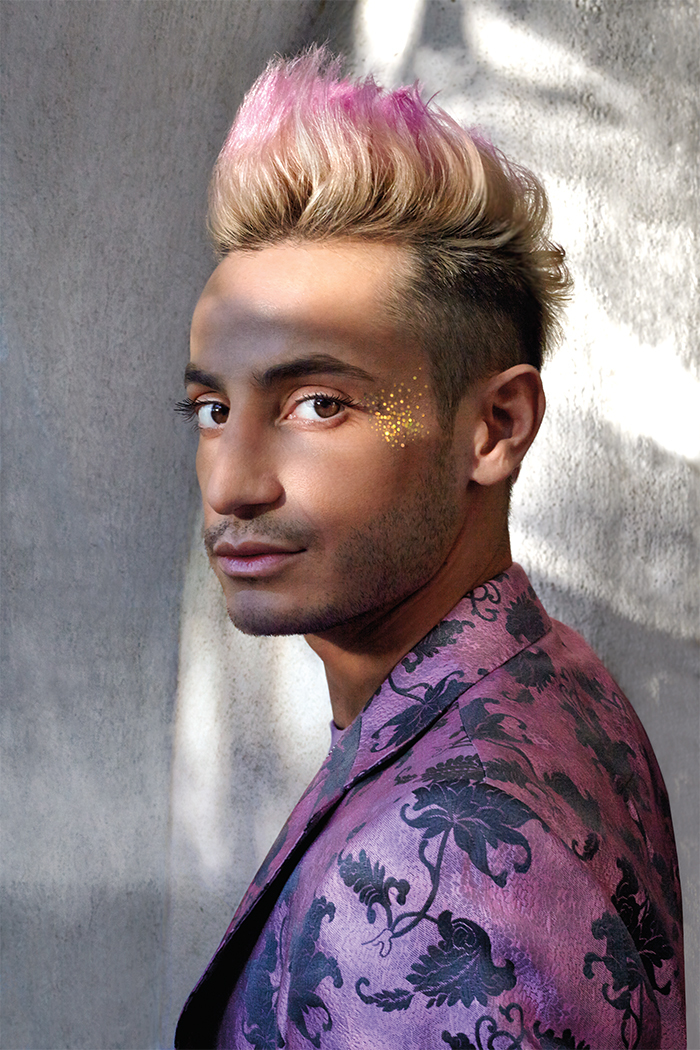 Bad boy of Twitter, Broadway and
Big Brother
, Frankie Grande presides over a millions-strong "Grandetourage." Currently he's juggling his social media endeavors and a costarring role in
Rock of Ages
, but he still manages to build schools in Africa and stay close with his family -- including sister Ariana, of whom he's a self-professed Insta-stalker. Read on and find out how the guy with the puckish charm (and rockin' bod) balances it all.
What would your career look like in a world without the Internet?
Because I think it was the thing that pulled me away from Broadway in the first place, ultimately it is the reason I'm returning in this manner. I think I would be exactly where I left off, in
Mamma Mia
.
What is the longest you have ever spent offline?
Well in the
Big Brother
house, that was four months with no access to anything online whatsoever.
And what was that like?
It was extremely peaceful. I never realized how much stress all of my various social media platforms provided in my life, it is a lot to constantly be up on a lot, to constantly be checking.
And did it feel peaceful from the start or was there kind of a learning curve during the first few days?
There was a learning curve, but in the
Big Brother
house there was so much to occupy my mind that it kind of numbed the need for it. Also, when I build schools in Africa I don't have access to social media and that is very difficult because there are so many thoughts running through my mind that I want to post about -- so many beautiful sites and people that I want to immortalize forever and unfortunately now, in this day and age, I can't immortalize something. Like if I take a picture of something on my phone, I will never look at it ever again unless I post it. Then it is immortalized; only when it is uploaded to Instagram will it live forever. So when I'm in the middle of Malawi for two weeks, that's actually when I have the most withdrawal with social media.
And when you build schools, is all of your work in Malawi or are there other places?
I have traveled all over South Africa, Johannesburg, Cape Town and all of the surrounding townships. That is where I do arts education empowerment.
How did you get involved with that?
I founded an organization called Broadway in South Africa [in 2009] with my best friend at the time, who was in
The Lion King
. Their cast is largely South African, so they hooked us up with their families in their townships in South Africa and we went there and started to work and teach a workshop. We developed it over seven years and eventually we started going to people we had never met before and different townships and different organizations, and people started to reach out to us to work in conjunction with them. We started working with Keep a Child Alive, Alicia Keys' organization, and then eventually buildOn asked us to join them, and then our organization, Broadway in South Africa, dissolved because our president left to go to Berlin to pursue his music career. And then it just became a part of buildOn.
That's awesome. Going back to your Internet presence, what was the first social media platform that you joined?
I was part of the Facebook generation. I was at one of the second round of schools added to Facebook, so it was like very exciting. It was still not available to the entire world when I joined Facebook.
Did you do any of the social media 2.0 stuff?
I did have a Myspace, I put absolutely zero effort into it. It was about as much as AIM in my life, which was like nothing. I think I had a sparkly background that moved but that was about it.
That was my next question. Speaking of AIM, what was your first ever screen name?
MADUPS824. I'm a volleyball player, so I thought I had mad ups.
I like it.
It was terrible!
What are some of your all time favorite viral videos?
Um, the
GloZell cinnamon challenge
is probably my favorite. I can watch that probably for seven gazillion years.
Have you ever been an online dater?
No, it has never really worked out for me. I just don't subscribe to it, and now it is kind of impossible. I'm just like, "Oh is that you? OK, great."
Whom do you stalk on Instagram?
I stalk Ryan Seacrest and Andy Cohen because I feel like they're always with fabulous people and in amazing places. I stalk my sister because when I'm not with her it gives me a good clue as to where she is and what she is doing. Sometimes she'll just like appear in another country and I'm like, "Oh, I didn't even realize you were going there."
Let's talk about Twitter. Have you ever deleted a Tweet before?
Um, I feel like usually I don't. I'm not much of a deleter because when I post something, when I put it out there its like... there's no way to actually delete a tweet. As soon as I post it, 7,000 people have screencapped it and know what you've done. I delete typos all the time, and then I get yelled at for deleting the typo, or I get called out immediately and so now I just leave the typo and write something like, "I hate autocorrect" and then I will repost it correctly.
It almost makes you look worse.
It's just like part of the narrative of my life. Like I can't spell; I'm a horrific speller. And autocorrect on this iPhone now is terrible, so sometimes I just have to embrace the mistakes.

Have you noticed a significant difference at all between the people who're part of your fan base now that it has grown, as opposed to people who were following just because they knew you as a Broadway actor, pre-Big Brother, pre-some of your sister's success?
Absolutely. The Grandetourage, as they have lovingly come to call themselves, has increased tremendously in size and in demographic. There are adults that are a part of the Grandetourage that have my back with their life and their soul. There are so many people that have met because of the Grandetourage, and there are adults and people and there are so many people that feel like they have friends or a community, where they were lost before the Grandetourage -- so it has definitely increased, I would say threefold. And it is a beautiful group of people. I am just really proud to have them and that they have each other.
Do you and your sister ever give social media advice to your parents or other family members? I know your mom is a very active tweeter as well.
We kind of all absorb through osmosis, and Ariana is the leader. She has figured out social media on her own and has been the only person in charge of any of her social media since it began, and to this day with her 20 million followers, she is the only person who looks at her social media, that's it.
What are some of the things that you would say you have learned from her?
I think short, sweet, and honest. You never have to hide how you're feeling and you never want to get way down into the minutiae of things. Don't complicate things.
Do you have a Tumblr?
I don't have a Tumblr, but there are several Frankie fan Tumblrs that I claim as my own, because they're so good. But no, I don't actually have one myself.
How much time in an average day would you spend online managing your various social media channels?
Um, I think it fluctuates depending on how busy I am. When I start rehearsals for
Rock of Ages
it is going to be significantly less than, like, a random day last week. But I would say anywhere from three to 10 hours a day, like if I'm doing a Tweet attack or something. If I'm posting on YouTube, then I also have to link it to my Instagram and tweet about it, and do a Tweet attack in regards to it, that is a good ten hours right there.
Last question: what were your last three Twitter DMs?
Well, because I follow 20,000 fans, I barely go on DM. But you want to see the ones that I responded to?
Y
eah, if you wouldn't mind sharing.
Oh, actually these are good ones. I posted a video that went on my YouTube channel that my fans had made. So one of them was the fan @ShineBrightDB16 telling me that she was coming to see me in Rock of Ages, and she said, "15 days, can't wait to see you." And I said, "Can't wait to see you." The next one is from a fan that made the video also. I told her that the video was phenomenal. And the next one was just a random one that I scrolled past that said, "It's my birthday, it is going to end soon, it ends in two hours. Frankie, please." And I wrote, "Happy Birthday." She wrote back and said, "Oh my god oh my god Frankie I just saw this thank you, you saved my life my whole life I love you."
Oh my god.
Sometimes I do actually respond to fans, I guess.
Grooming by Nicole Chew for the Celestine Agency


BACK TO OUR SOCIAL MEDIA STARS PORTFOLIO