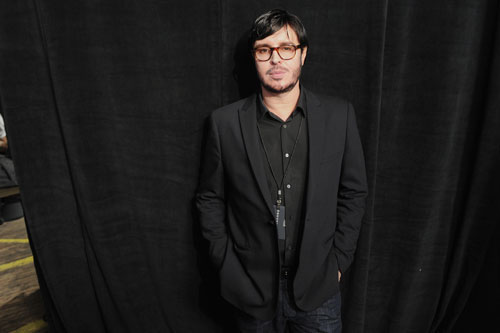 In the grand scheme of things,
Francois Nars
hasn't been in the makeup business that long, having sold his first collection of 12 lipsticks to Barney's in 1994. In recent years, however, Nars has created one of the most popular high-end cosmetics lines in the world, his line of "Orgasm" blush and lip stain quickly becoming a coveted item among beauty-philes. Nars recently opened his first boutique in the West Village, down the street from pal Marc Jacobs, whose runway shows he does the makeup for, and chatted with Mr. Mickey about the new shop and how the big-O helped put him on the map.  
What inspired you to open your own boutique?
I have always wanted to open a boutique. This has been a dream for a long time and I'm thrilled that it has finally come true! I love the West Village and especially love Bleecker Street because I think it's a happening street. It's a very cool, fun area with great shopping. I love that Marc Jacobs is right around the corner and I especially like the little park across the street! 
I hear it's going to be very different from the usual slick and austere beauty counters of department stores.
Yes, it is a bit different; it is very open. I love the lighting and the use of technology. We incorporated video screens which preview
NARS
films--it's all very interactive. The colors are very basic, but strong. Everything is white and black, with touches of red lacquer. It reminds me of Guy Bourdin.
Your makeup from the Marc Jacobs show last season was so beautiful and strongest beauty look of the season. Can you describe the process of developing the makeup for a show?
Makeup and hair are very important accessories when it comes to the runway. Marc usually has images of what he wants the makeup to look like - essentially mimicking the colors of the clothing but not matching them exactly. We work together to capture his vision and bring it to life on the runway. For Spring 2011, the look was very reminiscent of Angelica Huston in the 70s - the bleached brows and the deep eyes.  
All the girls at PAPER are obsessed with your "Orgasm" blush. Is that your most popular item?
I never anticipated Orgasm becoming so successful. Looking back, I think the combination of the name and the shade made it so popular... Without such an audacious name, I don't know if it would have become so iconic. When I named it, I always felt like it was a good way to actually get an orgasm by just buying a blush, so why not? And I guess women got the message. I follow my instinct and create colors that I love.
Photo by Patrick McMullan