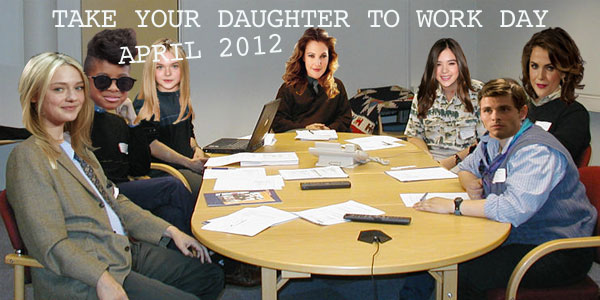 The trailer
for
New Year's Eve
,
Garry
Marshall's follow-up to 2009's holiday-themed, plot-less, celebrity-clusterfuck
Valentine's Day
, premiered yesterday, and we have to say, it looks pretty horrendous. Here below are PAPERMAG's suggestions for Marshall's future flicks.

(Please don't make these, Garry Marshall.)

Labor Day
Tagline: We told you not to wear white...
Genre: Horror
Starring: Julia Roberts, Megan Fox, Ed Burns, Matthew Goode, Chris "Ludacris" Bridges, Josh Hutcherson, Jon Hamm, Zoe Kazan, Melissa McCarthy, Neve Cambell, Ke$ha, Jordana Brewster, Rumer Willis and Lena Dunham.
 
Presidents' Day
Tagline: Ask not what your country can do for you, but what you can do for your country because you're a young, female White House aid whose parents are dead and whose older sister is married with kids and even though you love having dinner with her on Sundays in Georgetown she just doesn't get why you're dating a philandering personal trainer and meanwhile your co-worker is clearly in love with you even though he has a beautiful, demanding PR executive fiance whose overbearing rich father is calling all the shots for their upcoming wedding. Third Monday of February 2013.
Genre: Romantic Comedy
Starring: Justin Long, Ted Danson, Dwayne "the Rock" Johnson, Emma Roberts, Chelsea Handler, John Krasinski, Emma Stone, Bow Wow, Josh Duhamel, Mary Kate Olsen, Chrisina Hendricks, Jason Segal, Cher, Jerry Seinfeld, Hillary Duff.

Take Your Daughter to Work Day
Tagline: Make it a day she'll never forget. Ever.
Genre: Family?
Starring: Keri Russell, James Marsden, Drew Barrymore, Vin Diesel, Anna Farris, Liam Hemsworth, Elle Fanning, Dakota Fanning, Selena Gomez, Hailee Steinfeld, Chloe Moretz, Willow Smith and introducing Ava Witherspoon-Phillipe.
Birthday
Tagline: Everyone has a birthday. Everyone.
Genre: Comedy
Cast: Steve Coogan, Owen Wilson, Bijou Philips, Elizabeth Berkley, Paul Reubens, Eddie Murphy, Pitbull, Emilio Estevez, Paz de la Huerta, Bill Cosby, Natasha Leon, Winona Judd, Lil' Kim, Dame Judy Dench, Valerie Bertinelli, Tommy Lee Jones, Ben Stiller and Wayne Brady.
Boxing Day (The Day After Christmas)
Tagline: Sometimes the one thing you wish you could take back is your ex.
Genre: Comedy
Starring: Scarlett Johansson, Ryan Reynolds, Mila Kunis, Macaulay Culkin, Sandra Bullock, Jesse James, Jennifer Aniston, Brad Pitt, Jessica Simpson, John Mayer, Renee Zellweger, Bradley, Cooper, Jason Sudeikis, January Jones, Justin Bartha, Ashley Olsen, J.Lo, Marc Anthony, Arnold Schwarzenegger and Maria Shriver.