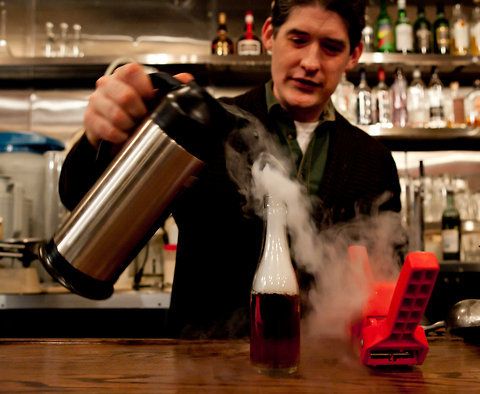 Momofuku
's newest whimsicality,
Booker and Dax
is probably where you should be this weekend. Located in the space formerly occupied by Momofuku Milk Bar, from whence cookies once came forth, now come cocktails and carbonated delights that will have you floating like fizzy-lifting-gas from
Charlie and the Chocolate Factory
. Like any mad science lab, there is a mad scientist behind it. In this case,
Dave Arnold
of the French Culinary Institute who has been experimenting with flavor and foam and fantastical ingredients for years. We doubt we need to convince you, provided pork buns are involved, but just in case you need a little push, here are five reasons to Be at Booker and Dax.
1.  A whole section of bubble-filled cocktails, carbonated before your very eyes.

It's enough to bring us to the yard. A Hatchback's bitter bite (Campari, tequila, lime and grapefruit) is perfect for slipping into spring, while the gin and juice's (gin and clarified grapefruit juice) deceivingly demure clarity is rather tart and punchy.
2. Cocktail names like Bols Deep (Bols Genever and Angostura) and Mustachi-Ode (Nardini Amaro, Becherovka, Bourbon, egg-white, and pistachio).
3. The giant rocks.

A big piece of ice is nice. After sipping a cocktail over such a beautiful piece of frozen water, one gets rather attached. Can we take it home? Maybe just hold it for a minute before we leave? No? Fine. We'll take another. But please, can we use the same rock?
4. Inevitably bizarre ingredients.

We're the type of drinkers who will go after anything that screams 'umami' or 'strong, weird and stirred.' But we understand, not everyone wants fleur de sel and bacon in his drinks. But if you're in the mood to experiment, it should be here. Go for the smoky, sour, sweet Son of a Peach (mezcal, tequila, peach, lime and Umeboshi vinegar) or the deep, funky spice of the Jenny & Scott (Yamazaki, mole and Hellfire bitters).
5. Dave Arnold.

You may catch a glimpse of the wild-eyed Arnold behind the bar carbonating drinks, playing with liquid nitrogen, or scratching his head (that's him in the photo above). Chances are he won't look up or even hear you if you inquire, so shhh, he's thinking.
Photo by: Sara Krulwich/The New York Times