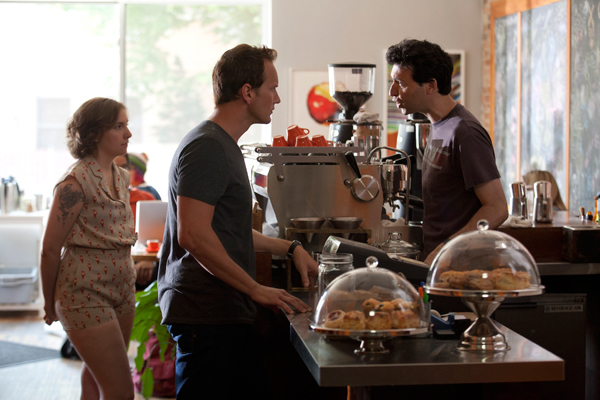 This was my favorite episode of the season so far. Here's why, in five points.
1. The pace.
After a slew of thick-plotted, action-packed episodes that have been difficult to re-cap short of writing a novella, this one, titled "One Man's Trash," slowed things down. Aside from a run-in with Ray, the only characters are Hannah and Joshua, a recently separated and painfully gorgeous doctor played by Patrick Wilson. The music, except for a brief peek into a neighbor's party, is purely instrumental. There are no outfit changes or Brooklyn sightseeing or snarky pop-culture references, except for a brief mention of Urban Dictionary. The plot is simple: Hannah falls into a blissful two-night stand with Joshua that initially goes so well, you wonder if she's dreaming. So does she. But things go south fast. After fainting in his fancy shower, she gets tangled in a web of insecurities and has a total meltdown, accusing him of judging her feelings, which turn
s
him off and spoi
ls
the entire fling.
Maybe it's unrealistic, delusional or even a bit fantastical, but at its core, this episode is a character study on Hannah who has drifted a bit this season. Just as Marnie, Shoshanna and Jessa have been experimenting with their romantic paths, it's Hannah's turn to try something, or someone, she always perceived to be out of her reach. Joshua provides a glimpse into a world that Hannah never thought she could have. He's got it all, "the fruit in the bowl, the fridge with the stuff," and now that it's in front of her, conventional happiness doesn't seem so bad. Some might call this a typical coming-of-age moment for twentysomethings, but this is Hannah, a girl who tends to see things a bit more "meta" than everyone else. Naturally, this epiphany sends her into a total meltdown.
2. The meltdown.
Hannah hasn't confronted her emotions since she broke things off with Adam, choosing to instead distract herself with anything in reach (cocaine,
R
epublicans, organic
T
hai recipes, blogging, junkies, you get the idea). But Joshua is the ultimate distraction. Not only is he the anti-Adam -- successful, hard-working, sensitive, giving and really very grown-up -- he represents everything she's scared she'll never have. As we watch Hannah explore his world, we get the impression that she doesn't know what to do with it. Like the wackos who win the lottery and blow it all in one night, Hannah self-destructs right in front of Joshua in a matter of minutes, without him having to say much of anything.
"Do you think I'm a crazy girl? I mean if anything, I think I'm just too smart, and too sensitive..." she says, complaining about her artistic duty to constantly observe.
It's a cringe-inducing freak out session that makes you want to beg her to just
be cool
. But a happy ending just wouldn't be Hannah, would it?
3 Patrick fucking Wilson.
4. The apartment.
It's not enough that Wilson's character is ridiculously good looking, he also owns the most gorgeous brownstone in Brooklyn. It's no wonder Hannah wanders in enchanted and says she feels "like she's in a
Nancy Meyers movie
." He has a charming yard, a glossy piano and a ping-pong room (I mean, seriously?). And, as someone who recently navigated the New York real estate market, I can attest that the lighting on his first floor is worth about $1,000 a month on its own. I wish I were kidding.
5. The god-awful romper.
I love a jumper and the ill-conceived wardrobe choices of our early-twenties as much as anyone, but this finch-covered number from hell really freaked me out. But at least it's another way for Lena Dunham to draw a bold line between Girls and Sex and the City: If Carrie Bradshaw was a fashion "do," (and even that could be a stretch) Hannah Horvath is a fashion "do not do this past the age of 24." In fact, that'd be an apt tagline for this series in general.
That's it for now. Back to your panda videos.