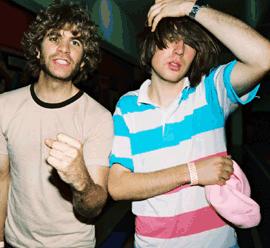 Last night I saw the birth, maturity and ultimate demise of the "ad hoc indie supergroup," Final Fantasy Online aka Internet. The band served as the music accompaniment to the comedic, McSweeney's show "The World, Explained." And while the show itself was really amazing I'm only going to be discussing FFO aka Internet because, well, someone should immortalize this shortly lived, somewhat disastrous, albeit hilarious band. The band included several Montreal boys including Dante DeCaro and Hadji Bakara from Wolf Parade, Jamie Thompson and Nick Thorburn from Islands (formally from The Unicorns, pictured here), and finally Syd Butler from Les Savy Fav.
They may have only played for a grand total of 15 minutes, but those 15 minutes sure were entertaining! The first song they played was instrumental and meant to sound like information being downloaded over the Internet (so interpret as you will). They followed up that gem with several interesting covers including a song from "Annie," U2's "With Or Without You" and NKOTB's "Hangin' Tough." During the U2 cover, one of their friends (whom host Eugene Mirman later referred to as "Drunk Chris") came running down the aisle, jumped onstage and grabbed the microphone to ask, "Can I play with you guys?" Then he threw off his shirt, picked up a spare guitar and started playing "Crazy Train" by Ozzy. At that point the whole band gave up and walked off stage while Drunk Chris continued until Eugene Mirman finally came out laughing in an attempt to take control of the situation.
Some very hilarious ad lib followed as the band forgot to turn off their pedals, thus creating the worst feedback known to man. Mirman turned it into a funny joke by saying, "I love it when I'm backed up by instruments that no one is playing, 'Isn't that right, Keyboard?'"
All in all it was an immensely entertaining performance by a band that I'm sure will never be seen again by anyone other than the audience in attendance last night. During the NKOTB song, when FFO seemed to have completely given up, Bakara yelled out, "Wait wait! Let's do that cool bit we practiced." Thorburn shouted back, "What practice?" A few moments later, Drunk Chris bounded up the stairs and body slammed Thorburn.