Fatta Cuckoo Is Our Restaurant of the Week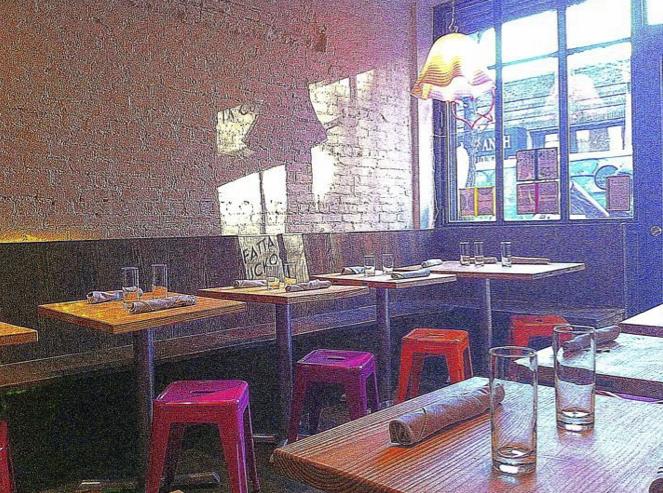 With a somewhat perplexing name,
Fatta Cuckoo
looks much like it sounds -- a child's charming playroom, bright white with short stools painted colors a tween might choose and chalk boards strewn with chicken scratch. Strolling the Lower East Side on a warm spring evening, we found its door thrown open wide to attract Clinton Street foot traffic. Their regular menu had been abandoned in lieu of springy dishes like a sharp and bright avocado and calamari salad ($9) and warm, buttery artichoke dip ($9). One main dish pulled together a somewhat disparate arrangement of shrimp, herbed potato salad and fava bean and tomato relish ($15). When asked where the regular menu had gone, the amicable server explained that the gas had been turned off, so the kitchen was flexing its experimental muscles. The bar did the same improvising with a spicy margarita ($8) for Cinco de Mayo, while other seasonal cocktails arrived in colors to match the stools. Later, a lunchtime pop-in found a menu consisting largely of prettily composed salads (Cobb, $12; Caesar, $8)) and sandwiches (egg salad, $8; BLT, $7). Each time the service was incredibly warm and accommodating, especially when a bag was left behind and saved for late evening retrieval. The same jovial waitress, upon query of the establishment's silly name, relayed an anecdote about the owner's grandmother who prepared her family's large Sunday meals. Afterward, everyone would sit around and rub their bellies, to which her grandmother would exclaim, "Oh! Fatta cuckoo!" Again, perplexing, but entirely charming. 
Fatta Cuckoo
63 Clinton St.
(212) 353-0570