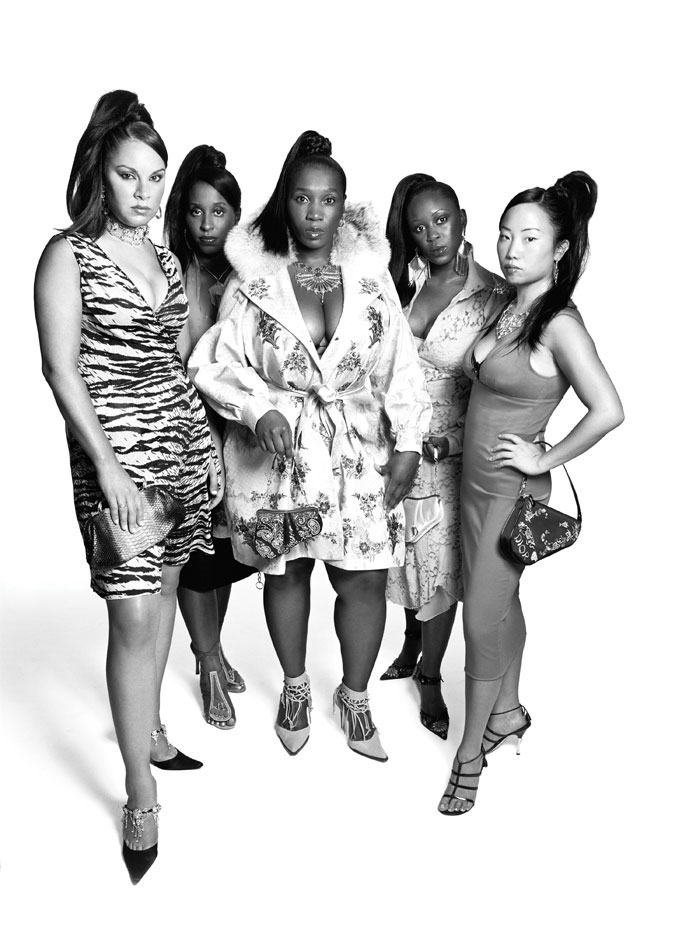 Bevy Smith (center) and friends. Photographed by Torkil Gudnason for
Paper
, September 2002.
Fashion has always been a part of my life. I can't imagine being able to express myself without it. Growing up in Harlem, I idolized everything from the
Mad Men
glam style of my mother to the flamboyant
Soul Train
looks the local barmaids served up. My mom dressed us in frilly dresses from B. Altman and Bonwit Teller, but as soon as she let us pick out our own clothes I went straight to Fiorucci on East 59th Street for my version of Olivia Newton-John's "Bad Sandy" look in
Grease
. When I began working as the fashion advertising director at
Vibe
, I expertly merged my mother's style with my own. A proper A-line skirt with an inappropriate cleavage-baring top and a classic pair of six-inch pumps was my uniform! But unfortunately as I entered the industry, it became clear that fashion didn't share the same love and admiration for me. Coming from a community where fashion was so important, I was shocked at the dearth of black people working behind the scenes in the fashion industry. As I visited the houses of Pucci, Missoni and Versace, I wondered how it was possible that they didn't enlist anyone from my community to design or market such vibrantly riotous clothes.
African Americans are a very viable market when it comes to fashion purchasing power. Annually, we spend billions of dollars on clothes. But despite our enthusiasm for brands and personal style, we are still poorly represented as designers. Attending events during New York Fashion Week, I meet so many young people of color with a desire to work in the fashion business. These burgeoning stylists, buyers, editors and designers ask me for advice on how to make it in the business. I urge them to study those who have come before and managed to succeed when the deck was stacked against them. These trailblazers were a big reason I
knew
I could succeed.
One of my earliest fashion inspirations was the international style innovator Mrs. Eunice W. Johnson. She was the wife of John H. Johnson, founder and publisher of
Ebony
and
Jet
magazines -- staples in every black household that I've ever visited. In 1956 she established the iconic Ebony Fashion Fair, which traveled across the country bringing a divine mélange of European and American couture and ready-to-wear collections to local communities like Little Rock, Arkansas, and Flint, Michigan, where
Ebony
and
Jet
's core audience lived. With reasonable ticket prices and proceeds benefitting local charities it was the place to be and be seen. An exhibit celebrating Eunice Johnson and the fair's legacy opens in March at the Chicago History Museum.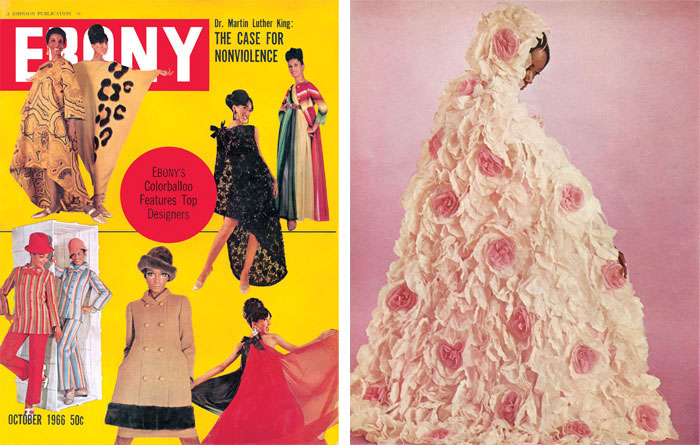 A few of Bevy Smith's fashion inspirations: The cover and a page from the October, 1966 issue of
Ebony
magazine. Click for full size image: Left and Right


Though the Ebony Fashion Fair introduced me to chic designers like Dior, Mugler, Lacroix, Halston and Rykiel, it was Stephen Burrows' vibrant creations that spoke most directly to my soul. Burrows' use of color-blocking and ingenious fabrics, like rayon jersey, allowed his clothes to pop on the runway and on the dance floor. One of the first black designers to play on an international level, Burrows was also the first African American to have an in-store boutique at Henri Bendel. In 2010 he launched a capsule collection for Target, who is now sponsoring his upcoming retrospective at the Museum of the City of New York this March.

In the '80s, my "Uptown Girl" sense of style was validated when designer Patrick Kelly from Vicksburg, Mississippi, burst onto the scene. Although he moved to Paris to live and work, Kelly was proud of his Southern heritage and incorporated it into every aspect of his designs.
Kelly was the first American to be admitted to the Chambre Syndicale du Prêt-à -Porter (the governing body of the French ready-to-wear industry). He was unashamedly Southern in Gay Paree, bounding down the runway before his fashion shows in oversized overalls and showing brightly colored designs inspired by Southern women going to church in their Sunday best. As critically acclaimed as Kelly was, his whimsical watermelon accessories and "Mammy" imagery, coupled with his fondness for the phrase "honey chile" and professed love of fried chicken, rubbed many folks the wrong way. Rather than trying to assimilate, he used his race as a calling card, a proclamation that he had the right -- and the talent -- to be in the fashion world.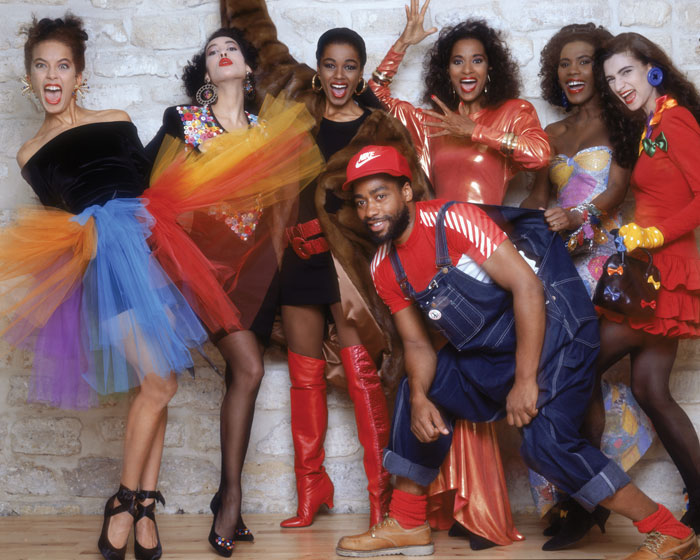 Paris-based American designer, Patrick Kelly with models wearing his clothes, 1987
Like Kelly, I don't expect, or want, the fact that I'm black to go unnoticed. I have no desire to live in a homogeneous society and I enjoy diversity in my life. Our differences allow us to grow and learn, if we're open to embracing and celebrating them. The pride of my rich culture allows me to stand out. In the '90s, when I was at
Vibe
, I took photographs by Harlem Renaissance documentarian James Van Der Zee, to Milan with me, so I could show the people running design houses like Versace and Fendi that for rap stars like Puff Daddy and Lil' Kim, being well dressed was their legacy.
Accordingly, when I attended a Vivienne Westwood show in the early '90s in Paris at the Hôtel de Crillon, I channeled those who had flung the doors wide open for my arrival. I learned about Paris from Josephine Baker, James Baldwin, jazz musicians and the Battle of Versailles -- the famed 1973 fashion battle that pitted Parisian couturiers against American sportswear upstarts. When I walked into that Westwood show, head held high, resplendent in my Harlem style (bright, tight, striped knits by Rykiel, my "Dice" jacket by Patrick Kelly and a Vuitton "It bag"), I felt that with each step of my sky-high Versace heels I was saying, in the words of Puff Daddy, "Take that, take that!"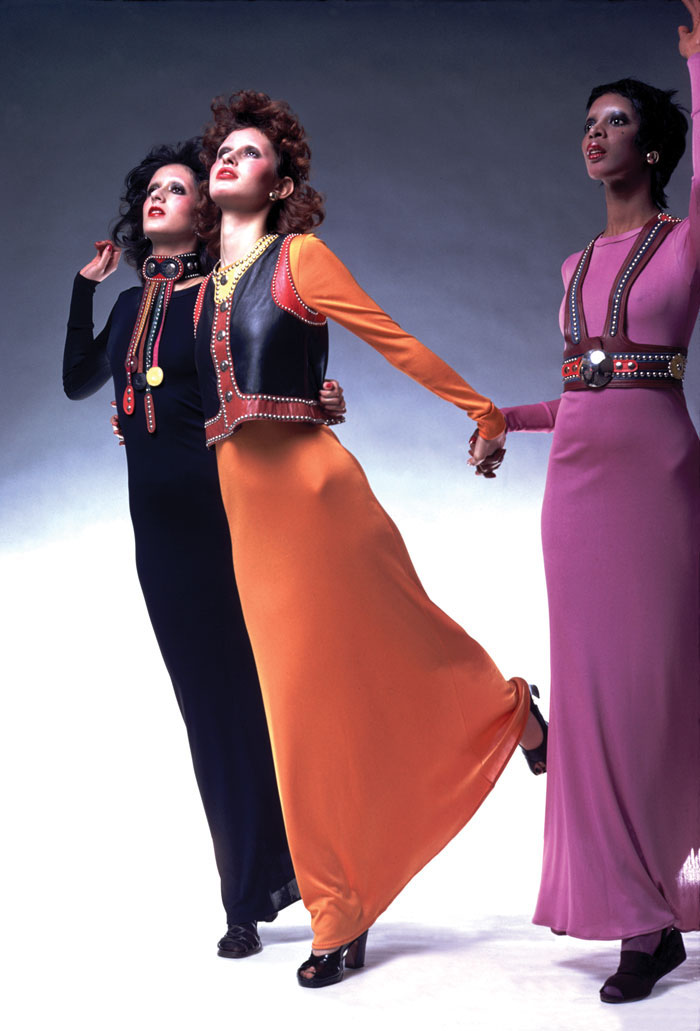 Models in Stephen Burrows' designs, 1970.
The '80s were a great time to be black in fashion, the '90s not so much, and in the millennium there was a drastic change. With the rise of the "blank slate" Eastern European model, a virtual "hanger" to put clothes on, designers were no longer including models (like Naomi Campbell) with personality and verve. At the same time we saw "urban fashion" brands like FUBU (For Us, By Us), Enyce, Ecko and Sean John hire head designers of color to create "street wear." This oversized, logo-heavy style became such a trend that even designer brands incorporated elements of it into their designs. Who can forget Chanel's "Hip-Hop" collection, with its thick gold chains and backwards baseball caps? Although their designs didn't appeal to me personally, I was happy to see so many black designers given the opportunity to work in fashion, even if it was through a limited prism.
Fashion's relationship with black consumers continues to be complicated. It's the dream of every fashion designer to be carried in mainstream department stores and dress celebrities, yet Tracy Reese is really the only black designer who's currently living this dream. I love wearing Reese's clothes; her modern approach to dressing real women has made her a standout in the fashion community and not just as a black designer. That said, Reese isn't the only black designer working. There's also Kevan Hall, b michael, Byron Lars, Patrick Robinson and, the baby of the bunch, LaQuan Smith, just to name a few. All of them make beautiful clothes, but unfortunately they aren't always easy to find. Design houses clamor to showcase Michelle Obama's powerful arms in their clothes, yet African-Americans are still not reflected in advertising, on the runway or even behind the scenes. The kumbaya moment hasn't happened yet. But as a brown girl from Harlem who has sat front row at fashion shows in Paris, Milan and New York and witnessed a black woman from the South Side of Chicago become First Lady of our nation, I know a change is going to come. And when it does, I will be perched in the front row looking FAB!