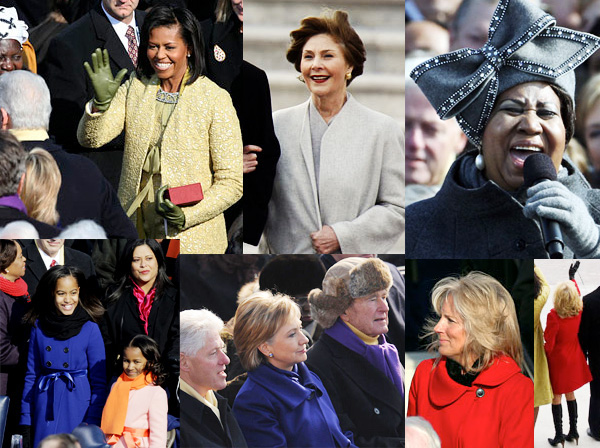 Today's inauguration of President Barack Obama was undoubtedly a historical and monumental event. That doesn't mean, though, we weren't paying attention to all the pretty outfits! Here are some fashion highlights...
Michelle Obama wore a dazzling, "lemongrass"-colored number by long-time PAPER friend Isabel Toledo, officially giving Jackie O. a run for her money as best dressed First Lady. It was tasteful, glamorous and celebratory -- all at once! PAPERMAG's Carol Lee particularly enjoyed her olive green gloves.
Another real highlight was Aretha Franklin's big-bowed chapeau. The Queen of Soul understands special occasion dressing.
Laura Bush's understated grey dress and coat look oozed expensive glamour, but it was her dark lipstick and well applied mascara that really tied the look together and made us forget for one second that her husband is a hideous d-bag.
We were devastated to learn that Cindy McCain was not going to be a contestant on Dancing with the Stars, cause this lady is h-o-t hot. Her elaborate bun-in-the-back look made our hearts go schwing.
Was George H. W. Bush giving a shout-out to the L.A. Lakers with his yellow turtleneck and purple scarf? Probably not -- but props to Bush Sr. for his bold color choice.
A part of us still thinks this should have been Hillary Clinton's day (my mother included), but we're just as excited for her to be Secretary of State. We were expecting one of Hillary's dynamite pant suits to make an appearance; instead we got a purple coat with novelty collar and some gorgeous tuck detailing in the back. Coming or going we're still Hillary girls.
So we know Jill Biden has a phD in education, but in those boots and with that tan she looked like a Real Housewife of Orange County!
We love J. Crew and you can you can see how far the brand has come when it's warn by the stars of the Inauguration, Little Miss Scene Stealers Malia and Sasha Obama. Those girls can't resist anything with a ribbon detail.