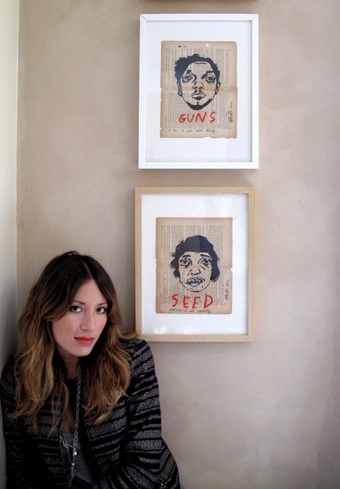 Lauren Gould
In our ongoing series, Ladies Who Lunch, cook, co-founder of catering company bigLITTLE Get Together and Marc Jacobs' personal chef, Lauren Gerrie, will be whipping up lunch -- and conversation -- with some of our favorite New York City gals.
Originally from West L.A., Lauren Gould made the leap to the Big Apple to attend NYU and soon after launched a career in the fashion world starting with internships for Karen Rabinovitz (who was then a freelance fashion writer before she launched Digital Brand Architects), YSL, Gucci and Harrison & Shriftman. After getting hired at Work House Publicity, she was introduced to author and editor Ian Luna and wound up freelancing for him, working on some of his most well-known books about Louis Vuitton and Kenzo. Currently part of a power team at Howl Group with Rob Lee (whom she met one night at Schiller's) -- where she worked on the launch of Justin Bieber's international fragrance campaign -- she also finds time to work on her fashion photography blog,
"The Marcy Stop."
Originally launched with her friend Micol Cortese -- and named for the subway stop they were both living off of at the time -- Gould now runs the site solo and shares with readers her on-point fashion sense and her envy-inducing Brooklyn lifestyle. We sat down with Lauren during NYFW to talk food and to cook a filling wintry lunch that any fashionplate could indulge in.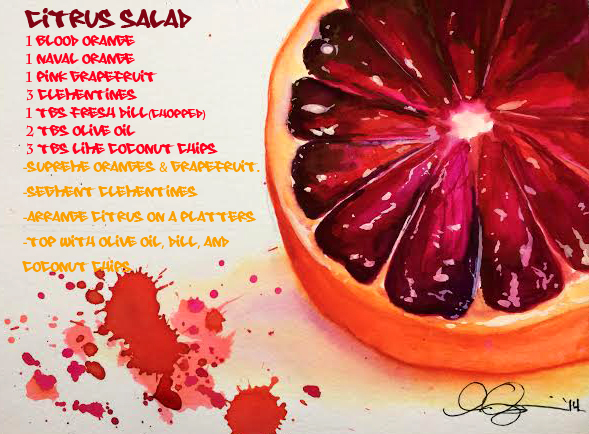 MENU
Winter Citrus Salad with Dill & Lime Coconut Chips
*
Spinach / Avocado / Coconut / Apple / Ginger Smoothie

What is your favorite meal of all time?
PHO! My favorite place is this random spot in Philly. My mom is Vietnamese, which is where my love for pho began. But my sister went to Temple Med School in Philly and found this amazing place called
Nam Son
. My mom always said you can tell the quality of pho from the herbs that they serve with it and this place gives you a huge heaping plate of beautiful unique greens. Of course it is in a strip mall off some random street, but it is so good. If I need a pho fix in NYC,
Bia
is delicious.
Where's your favorite spot to eat in New York City?
Recently I went to
Shalom Japan
, which is Japanese Jewish fusion. It reminds me of my mom's cooking. My dad was in Vietnam teaching medicine when he met my mom. When the Communist takeover happened he was relocated to Thailand and had one more year to teach. During that year my mom came to the US and lived with my Dad's mom in Philly. She learned how to cook Jewish food from my grandmother and obviously combined her traditions with the new cooking techniques and recipes she had learned.
What dish makes you most nostalgic?
Hmmm, we used to go to this place in downtown LA where you cook rare beef slices on this metal bowl or slate dish. When I was younger my whole family used to go there. You had to roll everything up in rice paper which is where I perfected my "rolling abilities."
What's your first stop in LA when you go to visit?
Bay Cities
. ALWAYS. It's an Italian deli in Santa Monica. They make all their own breads there and they have these epic sandwiches. "The Works" is mind-blowing -- it has hot pepper salad and meats and cheeses. I have now started to smuggle their bread and pepper salad back in my bag. I will literally order online or call in my order once I land at LAX. You used to be able to fax in your order. When I was in high school in Santa Monica, a big group of my friends would put together an order, fax it from some random classroom, and someone would go pick it up. So worth it!
You have a little bit of the party girl in you.... or at least you go out to parties and events often. What are some of your all-time favorite cocktails?
I really love a Penicillin. I first had it at
Dram
, which is super dangerous because it is so close to my house and they make delicious cocktails. Essentially it is ginger, lemon, and you top it off with Laphroaig which gives it a nice herby taste. I feel like I could drink those year round because it is light, but rich. Although during the summer I love rosé. Once it's warm it is always "Rosé Season."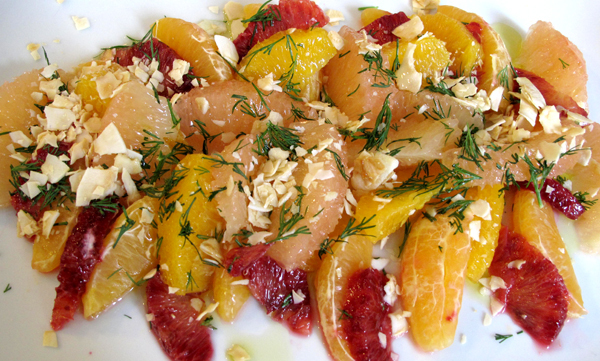 Citrus Salad
What is the biggest misconception about you?
I think people think that I am "just a blogger" and I don't do anything else. There is a lot more going on behind me and my identity on the blog. I am pretty business savvy and I don't always think that is translated through my fashion blog.
You mentioned that you and your boyfriend Isaac cook a lot at home -- what do you make?
Because he models and is really into fitness, he makes pretty healthy meals. His recent favorite is a chicken cauliflower curry, which is very paleo [diet]-friendly and it is delicious. We make a lot of salads and sometimes a 'throw together' pho. He also makes this homemade Caesar dressing that is super garlicky and has tons of anchovies.
If money was no issue, where would you go to eat and what would you eat?
There was this amazing street noodle cart in Laos that we would go to every day on vacation with my parents. Soup was a $1 and there were so many choices of meats and herbs. If not that Bay Cities!
What's your go-to condiment?
There's a mustard called Amora -- it's French and I originally discovered it in Bedford Cheese Shop where they charge $8. Then I went to France and they sell it in the grocery store for 1 euro. Now I stock up when I go and I bet the TSA thinks "look at this poor sad hungry girl and all her mustard!" I also make my sister, who is engaged to a French guy, smuggle me back this generic but oh-so-good mustard.
What lady would you most like to share lunch with?
My initial reaction is Michelle Obama. I just think she is really cool and I would love a peek into her closet.