Farm Aid Comes to New York City and Willie Nelson Cracks Everyone Up.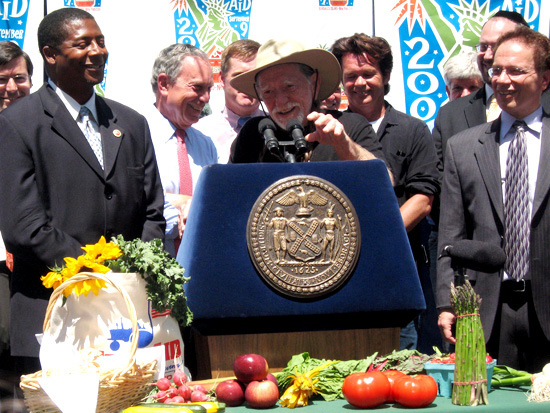 I was that close to one of my all-time heroes Willie Nelson! He and John Mellencamp came to the farmer's market in Union Square today. Along with the mayor Mike Bloomberg, the Farm Aid president Nelson announced that this year's Farm Aid 2007: A Homegrown Festival will be held on Randall's Island on September 9. I think this is so cool!!! They stood behind a dais in front of an assortment of New-York-state-grown veggies and fruits, and gave props to local and family farmers.
I had never been to a mayor's press conference before and I must say Bloomberg really won me over! He's seriously funny and charismatic. He joked how he, Willie and John Mellencamp started a band and they wrote a new song this morning called -- drum roll please -- "Mama, Don't Let Your Boys Grow Up to be a Mayor." You had to have been there, I guess. But all in all, Willie got the biggest laugh. When a reporter asked about him only using biodiesel fuel on the road, Nelson said, "Well, it was my wife Annie who first told me about it. She came to me and said she wants to buy a Volkswagen that runs on vegetable oil. And I thought she had finally found one of my stashes...." He had everyone cracking up including the mayor (see picture above)!! The other board members Neil Young and Dave Matthews will join Nelson and Mellencamp but the full lineup is still being ironed out. However, the tickets go on sale this Saturday, June 16 at 10 a.m.