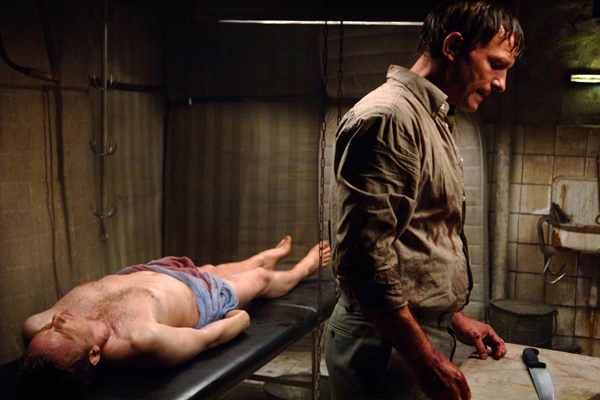 Fangoria magazine and
Lightning Media
have teamed up to release eight chillers on DVD Sept. 28 as the
Fangoria FrightFest Collection
. But there's a great contest now through July 19th
online
where you can screen eight trailers and vote on their merits. The film with the most votes will get a limited release. Luckily I have seen all of them and can give you tips on the best ones.
Fragile
(pictured below) is a fabulously effective ghost tale set in a gloomy children's hospital on the Isle Of Wight starring
Calista Flockhart
and directed by the talented
Juame Balaguero
(
REC
).
Road Kill
stars the new heartthrob from Australia
Xavier Samuel
(
The Twilight Saga: Eclipse
) about a bunch of kids stalked by a supernatural truck. It's preposterous but a lot of fun.
Grimm Love
(pictured above) is
When Harry Met Sally
for gay cannibals and has a mesmerizing performance by
Thomas Kretschmann
based on real life killer Armin Meiwes who met a man on line and actually ate him. This is my choice for best of the fest, although, as usual, the cheese will likely stand alone...
The Tomb
is a silly gothic take on Edgar Allan Poe with a broody
Wes Bentley
as a college professor seduced by a devious dame.
Pig Hunt
is my guilty pleasure. A bunch of buddies and one girlfriend go to a remote cabin for some serious hunting and get turned into the prey, stalked by crazed hillbillies, a bloodthirsty boar and a cult of crazed marijuana farmers. No kidding -- it gets really wild.
The Haunting
is an interesting Spanish thriller about a haunted Bishop's mansion and a wife who thinks she is slowly losing her mind.
Dark House
stars
Re-Animator
's
Jeffrey Combs
as the impresario of a hologram spook house set where an actual violent crime once was committed. It of course gets out of control when a real spirit invades the "machinery". Finally,
Hunger
is a grim shocker about several strangers who awake imprisoned in a rock quarry by a  fiend who watches them on video monitors waiting for them to eat one another.
Bone
appetit!