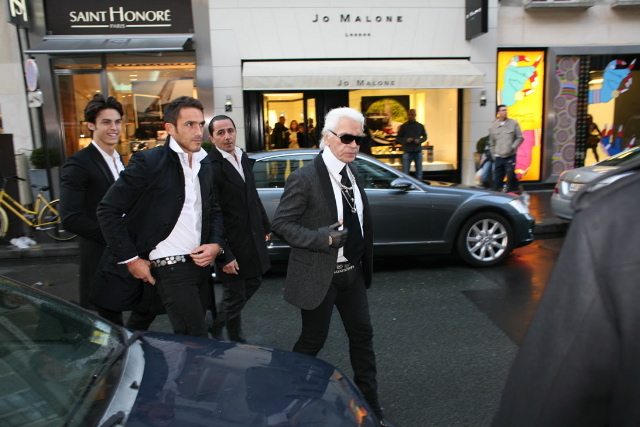 In the the throes of preparing three collections to be presented within the next two weeks (Fendi in Milan, followed soon thereafter by his eponymous Karl Lagerfeld line and then Chanel Prêt-Ã -Porter in Paris), it was merely a few weeks ago that Karl Lagerfeld launched his masterfully cut, entirely black-and-white Spring 2009 Chanel Haute Couture collaboration with Japanese hairstylist/milliner Katsuya Kamo and I first sat down to discuss the show with "Fake Karl" of the hilarious cult read in fashion circles –- Karl Lagerfeld's Guide to Life. The site is a daily hit on the RSS-feeds of esteemed critics, distinguished designers and even a few Condé higher-ups; and as such I have accordingly received countless emails begging for more "Karl." Ask and you shall receive. Below, a follow-up interview with the quick-witted Internet phenomenon.

New York Fashion Week has finally drawn to a close. Given your new credo on "reality fashion" what were your thoughts on the collections?
There is reality, and then there is fashion. Now obviously fashion must reflect reality, but it need not be a dull sort of reality. This New York Fashion Week appeared to reflect the reality of an accountant in a box which he's been locked inside for 100 years.
I know that Cathy "from Ohio" Horyn didn't like Rodarte, but it was better than much of the rest of the fare. Marc: the 80's have come and gone! Some designers (shall I name names?) just need a good seamstress. That's how we make beautiful clothes at Chanel; we breed little old seamstresses, who are born old and skilled at sewing by hand. Calvin Klein wasn't bad at all, for a show set in New York. There's something about New York that turns most fashion designers to sludge... if they weren't that way to begin with.
We haven't spoken since your splendid couture effort in Paris... what did you think of your fellow couturiers output?
You know, couture isn't particularly about making money. It's about giving off a specific image for a house –- giving off a specific scent, hmm? It's like a building site, or a plumber, or a clock: they all have their specific scent. I felt Valentino... actually do we have to speak about that? Speaking about the dead isn't disrespectful, of course –- Chanel: slut! Balenciaga: horrible man! Dior: fattie! But Valentino's not dead yet... and he used to be a lot of fun. Let's just say that he needs to let go; or else the whole thing will die! I was not impressed. And what to say about the others, hmm? They do their thing. If their thing is ready-to-wear, that's fine. Just don't do it in a couture setting. That's a bad scent to give off, no?
Why in your opinion are the intricate, exquisite Parisian presentations so much more worthwhile and fulfilling in person than their more commercial New York counterparts?
You know... people don't really buy what's shown in New York anyway. So I don't really know what you mean by "commerical" when they don't sell! Look at these people -– shutting down their showrooms, cutting down on fabric costs! Is there a hidden public that buys these "clothes" on display at New York Fashion Week? Are they hiding from me, hmmm? Are they like a sort of horror movie cult that only comes out when the chic are away, hmm? So it makes sense to show something that's worth something in Paris, because otherwise it's simply rude: it's rude to the buyers, it's rude to the celebrities and their crude mannerisms, it's rude to those journalists. Why travel to see something that could come off a Wal-Mart rack? People travel to New York for this, but Paris is slightly farther away, hmm?
Your next showing will be next week in Milan to present the F/W '09-'10 Fendi collection; how is your mindset different when preparing an Italian collection?
I'm an actor. Kind of like Marlon Brando, but not as big as he was at my age. So I simply pretend to be Italian whilst I sketch. I mean, I don't go and get a perma-tan like a certain man who was in New York opening up a monstrosity of a store recently... and I don't go overboard on the botox or leopard print. Leave those for the actual Italians. An Italian collection –- for me -– is always quite modern, quite bold. I'm working with a different iconography. So I switch my glasses from my "Chanel" designing glasses to my "Fendi" designing glasses, so I can see the world through Italian made glass rather than French made glass. And then I design.
With your eponymous Karl Lagerfeld and ready-to-wear Chanel collections to be presented soon thereafter, how do you micromanage your schedule?
There are people I pay for that sort of thing. Designing isn't hard anyway, it's a kind of hobo's job. A layabout's job. That's what I am, a layabout! So it doesn't take much work anyway. I think if my mother were alive she'd be disappointed with me – designing only three collections. I'm terrible! If I had a conscience maybe I'd feel guilty about my underachievment, but luckily I have no such thing!
Is it difficult to maintain three distinct design philosophies while composing such discrete creations?
It is easier to have three personalities than none at all.
Marc Jacobs prominently cut flippant celebrities from his guest list and instead harkened back to shows of yore with a largely fashion industry crowd... would you consider doing the same for any of your triumvirate of presentations?
I don't know why he did that, since it looked like the sort of clothes celebrities enjoy. Or have these celebrities eshewed the leggings entirely now... and are prancing around Hollywood naked? I only invite people that I like. Sometimes, they're celebrities. Sometimes, they're strippers. Sometimes, they are books which I am particulary fond of. We will see, no?
Speaking of Marc, what did you make of his "celebratory 'fuck you'"?
It's not much when one does not pleasure one's lover, hmm?
There have been a flurry of your fur quotes thrown around as of late... what is your real take on the material?
It's rather quite warm, isn't it? I don't wear it, because I'll look like my mother; but some people do... it's better to wear an animal than eat it anyway, because that way you don't add on any calories, hmm?
We're dying to know... have you actually mingled with any local, erm, country folk at your new Vermont mainstay?
Yes! You should come down for a visit sometime. They are lovely people. They're now outfitted in Chanel hunting jackets, so it's all very chic. I'm teaching them the art of being passsive agressive next. Rei [Kawakubo, founder of Comme des Garçons] is going to help. It's a kind of charity work, apart from the fact that I hate charity. So it's not. It's just people who have the potential to be chic if only they didn't hunt so much.