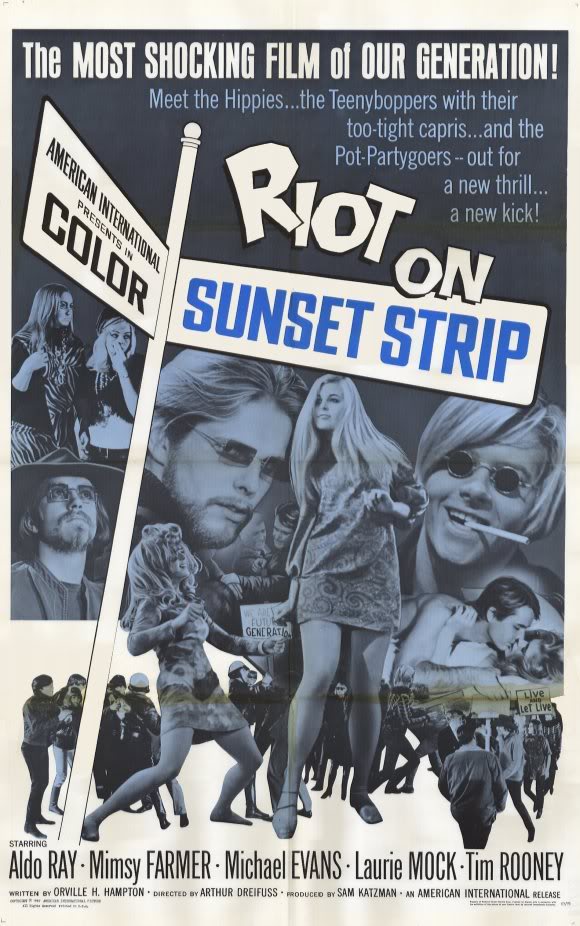 Out now on 20th Century Fox's DVD-on-demand is the utterly fabulous cult classic
Riot On Sunset Strip
(MGM). This 1967 teen rebellion film was directed by
Arthur Dreifuss
(
The Love-Ins
) and stars
Mimsy Farmer
as Andy, the new girl on the scene. Andy is the daughter of an alcoholic, pink-haired mom and a distant cop dad, Lieutenant Walt Lorimer (
Aldo Ray
),  who has been fair to the hippie teens roaming Sunset Strip. To him, they're just "irresponsible...protest youths with no where to go...nothing to do".  The kids hang out at Pandora's Box,  a club with bands like
The Standells
, 
The Chocolate Watch Band
(with a fake
Mick Jagger
-like lead singer) and
The Enemies
, who spout lyrics like: "Just don't seem fair...to bug you cause you have long hair." A snotty rich kid son of a movie star (
Schuyler Hayden
) and some other punks, including
Tim Rooney
(son of Mickey), break into a house for a "freak out" party. They dose Andy's drink with LSD and she launches into a five-minute wild frug that is a showstopper. Unfortunately they also drag her upstairs and sexually assault her which causes dad (
Aldo Ray
) to lose his cool and beat up a few thugs. This incites a sort-of-riot on Sunset Strip. See it for the bad fashion, awful music, big hair, and Farmer's slow-motion acid dance (pictured below). It's perfection!