Break out the cigarettes and champers, Absolute Fabulous is back! The full-length film following everyone's favorite self-centered fashionistas will be coming stateside on July 22. The Hollywood Reporter got an inside look at what to expect from the upcoming feature, focusing in on the most important part--the fashion, duh. The film reunites the series cast and original writers, not to mention one of its costumers. Rebecca Hale was with Ab Fab from 2001-4, and is back to cover Patsy and Edina in glory, a tough challenge with the ever-accelerating drama of the fashion world.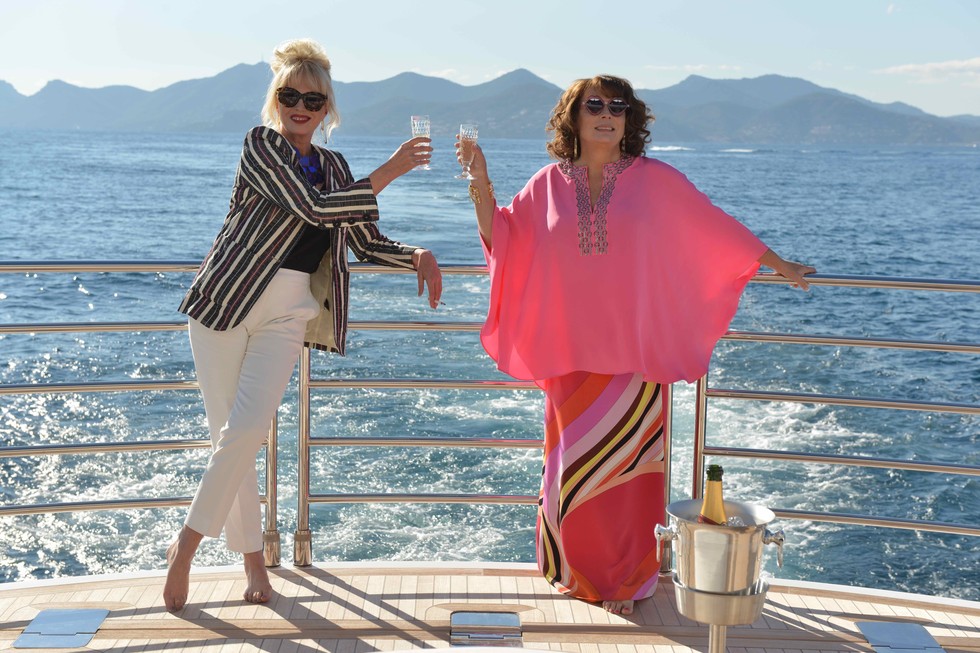 Eddy and Patsy are back.David Appleby/20th Century Fox
"Fashion has gotten so outrageous now. We can't have Edina walking around in pompoms like we used to. We have to be a bit more clever than that," Hale told THR. The famous Lacroix has been superseded in Edina's closet by Vivienne Westwood and Giles Deacon, both of whom crafted costumes expressly for the movie. "Westwood's anarchic, and her tailoring is beautiful — it's classic with a twist," Hale explained. She also added pieces from several young British designers, like Anya Hindmarch and Hannah Weiland.

Patsy's look got a less aggressive revamp, looking for that '90s look with chic high/low blends, pairing Lanvin with H&M, or Isabel Marant with Zara. "Sometimes Patsy is a bit rock-chick, but until she unravels after too much celebrating she is pretty soigne: Her lipstick is red; her hair is in a beehive; her sunglasses are understated and expensive," Lumley explained. "Cigarettes are de rigueur, and champagne and vodka must be on tap. Patsy fears nothing."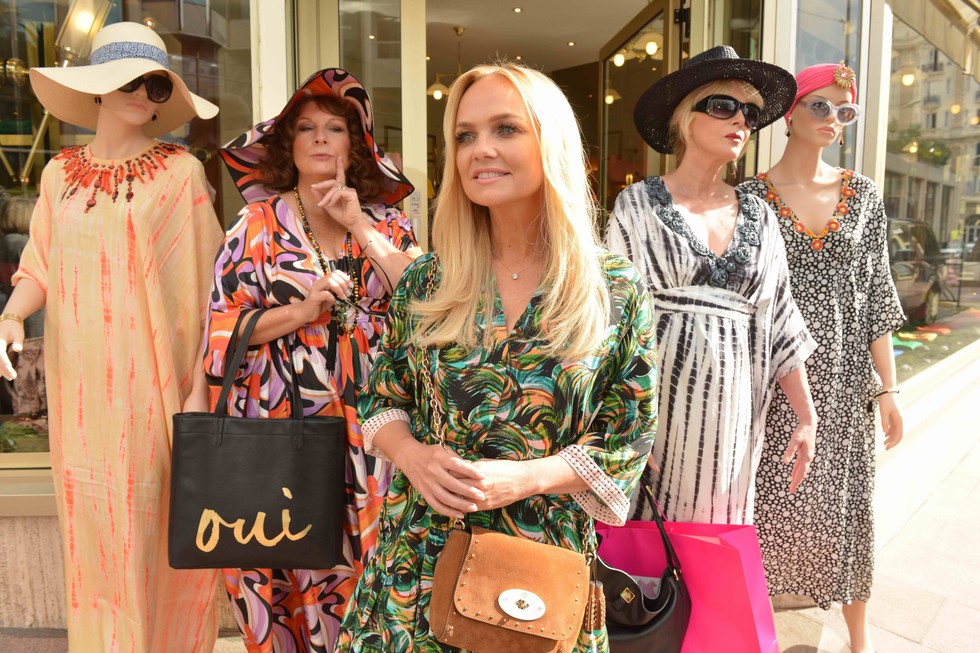 Jennifer Saunders, Emma Bunton, and Joanna LumleyDavid Appleby/20th Century Fox
The article also gave hints on a slew of guest stars that will be joining the women as they ramble around London. Fashion faces like Stella McCartney, Jean Paul Gaultier, and Kate Moss will appear (Moss, possibly, rising from the Thames in evening-wear with ciggie in hand). There's also a bevy of film and TV stars, including Rebel Wilson, Emma "Baby Spice" Bunton. Game of Thrones's Gwendoline Christie sits front-row with Eddy during a recreation of a Giles Deacon fashion show. "I know—Brienne of Tarth at a fashion show!" said Hale. "Gwendoline is actually quite glamourous—and a great comedienne." It's no surprise to us that Christie positively slays in Giles Deacon.

[H/T THR]