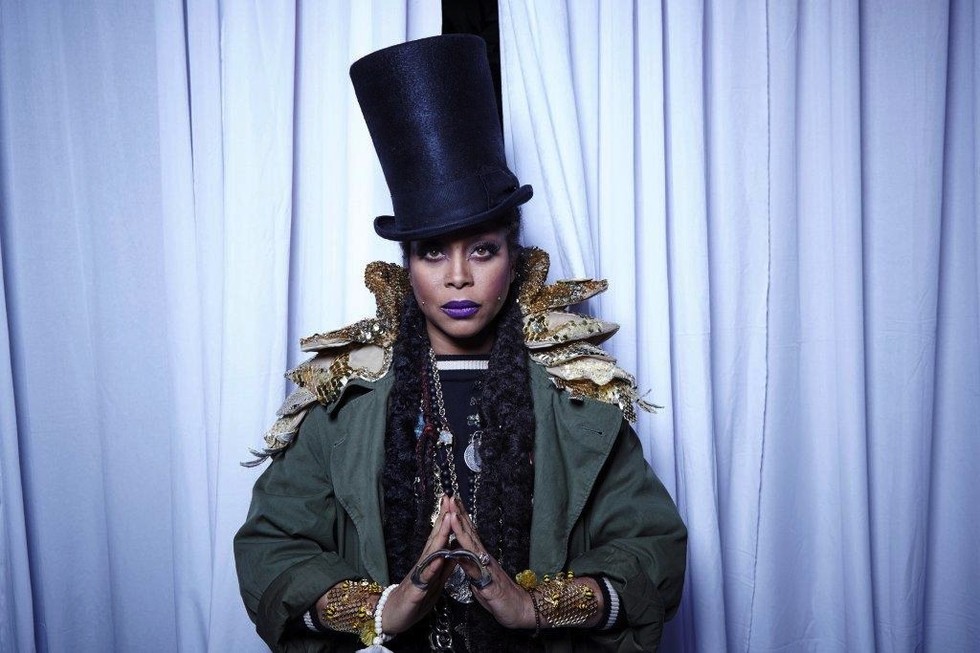 Photo courtesy of Centric and BET
It's a busy fall for Erykah Badu -- while most of us are still recovering from our turkey comas or braving the crowds of manic moms hitting up the shops for Black Friday, the legendary artist is releasing her newest project today, a mixtape called But You Caint Use My Phone. The recording, which was created after Badu's remix of Drake's "Hotline Bling" made everyone go crazy, is her first full body of work since 2010. And on Sunday, you can catch her hosting the 2015 Soul Train Awards airing on BET, her second time doing so after first hosting them back in 1998. We had the chance to catch up with the artist about both projects and to hear her thoughts on social media, creative inspiration and Drake.

You previously hosted the Soul Train Awards back in 1998 -- what can we expect this time around?
I can tell you that this experience was one of the most fulfilling and amazing times for me as a performer and a writer, because I was made an associate producer and writer on the show.
The [last time I hosted] I just kind of showed up and everything was there for me. This time I got a chance to write my own material and perform it and produce it. And what was fulfilling about it was seeing the audience laugh. It kind of crystalized the whole thing.
Speaking of writing and performing, you recently performed a one-woman show in Dallas. Is this something that you want to continue doing?
I've always [acted and performed]. It is not new for me. I think it is new for you guys. [ laughs] But I've written and directed all of my videos. I do films here and there and little short things here and there, but yeah I think it is refreshing to see other surroundings. And as an artist, it is important to surround myself with new inspiration and people.
Do you find when you're doing that kind of performance that the creative process differs at all from how you work on music?
No, it [comes from] the same place, you channel from the same place. You have to be honest and brave. Whether it is music, or acting, or performance art or public speaking, whatever it is, it comes from that same place in the self, where the will is driving.
And speaking of music, what can you tell us about your new mixtape, But You Caint Use My Phone?
It was inspired by me performing Drake's "Hotline Bling" and the frequency was right so I just pulled together some songs that were phone-oriented and called the project But You Caint Use My Phone, which is a line from my song "Tyrone."
So all of the tracks have something to do with phones?
Yes absolutely. And Drake is an inspiration to me because he is ever evolving and very creative. He is a brilliant performer all the way around -- he is a brilliant actor, he has really great comedic timing. He's just one of those artists that has a natural ability to perform, and I admire that because I feel that we come from the same tribe if you will of performance artists. And we don't talk very often or anything. It's just in meeting we recognize that kindred thing. I am an ear to him if he wants to talk or vice versa, but other than that we love the same, and that's performing and reinventing ourselves and creating. I think that is what we have in common the most.
When did you guys first meet?
We first met in person when I invited him to Dallas to come speak at my son's elementary school about six years ago. He was going to be in Dallas, and I thought it would be a really good surprise for Seven because Drake is his favorite artist. And Drake did come and it was just an automatic attraction we had to each other. We just hit it off and I became a big sister to him or an ear and after that we just kept in touch. Of course Drake is extremely busy but when Seven and him are in the same city, they always connect. He is very generous with his time with my son and I really appreciate that. And he is also friends with André [3000], Seven's father. He is just a really good person, all the way around. He is one of those people that has talent and compassion for others.
Going back to the mixtape, let's talk about the phone theme. What are your phone habits? Are you a big texter or do you prefer speaking to someone?
Believe it or not I'm kind of a geeky girl. I'm an analog girl, but I have mastered this digital world like you wouldn't believe.
You're amazing on social media.
Yeah, I do all of that alone -- all of my marketing and promotions. Anything you see digitally of me whether it is photos are artwork or any of those things across the board, I'm doing that. But I manage to balance it very well with being a mom and an artist.
Get a copy of But You Caint Use My Phone on iTunes or stream it via Apple Music.