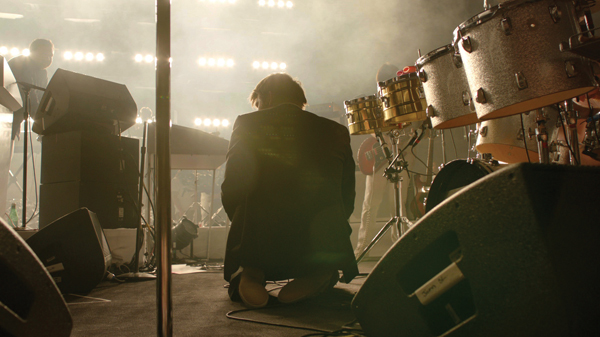 Last April, to the dismay of the band's rabid fans, LCD Soundsystem threw in the towel, and played one last epic show at Madison Square Garden. Filmmakers Will Lovelace and Dylan Southern captured the historic concert, in addition to lead singer James Murphy's days leading up to and after the show. The result is the moving (in that it both makes us want to dance, and cry a little bit) film
Shut Up and Play the Hits
, that will be in theaters for one night only: July 18. We chatted with Lovelace and Southern.
How come you chose to focus on just one moment in LCD Soundsystem history, as opposed to telling the band's full story?
We didn't want to make a biography film, the type of film that just told the nuts and bolts story of how LCD got together and chronicled their career album by album. For us, the interesting thing about the LCD story was the fact that they could just end so decisively, that the band was viewed as a finite thing by its members. There was no animosity, no fallouts, it was just a simple decision that LCD as a touring band and a body of work had reached its natural end.
Spike Jonze did some of the camera work. How did he get involved?
He and James are good friends, and James mentioned to us one day that Spike wanted to come down and shoot one of the cameras at Madison Square Garden. We were obviously elated. He has such a talent for finding characters, moments and getting into places and positions that really captured the feeling of being there. In the middle of "Us V Them," Spike captured a dancing couple, whose crazy dancing builds to the point where they are making out oblivious to the presence of his camera. For us, it's one of the iconic moments in the film.

Obviously when you follow around James Murphy with a camera the days before and after his last show, people will come up to him -- what did they say to him?
A lot of people talked about the show, how great it was. But his dog Petunia really gets more attention from strangers than he does!