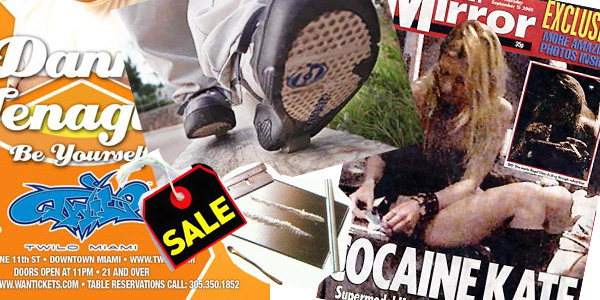 1. When the world famous New York club Twilo folded in 2001 the owners tried to re-establish the venue in Miami last year. Now the Miami branch has also folded. Located in the downtown Miami 24-hour nightlife district, the club encountered many of the same problems currently being felt on West 27th Street in New York's nightlife district. The cities' original concept of keeping all the clubs in one zoned area has backfired by also bringing all the attendant problems to one neighborhood -- and then blaming the clubs. In a recent posting on burlingtonnights.com, regular Twilo DJ Danny Tenaglia observes that "Miami is being completely taken over by hip-hop, reggaeton, VIP rooms and non-intelligent teenage drop-outs with gansta tattoos."
2. The next time your favorite house-music anthem exhorts you to "Jack your body, ja- ja- jack your body!" your feet might be doing more than just making you sweat. British newspaper The Independent reports that Enviu, a nonprofit organization for eco-projects, and a Dutch architectural firm called Doll have teamed to create a Sustainable Dance Club. Though still in the planning stages, the dancers will eventually "squeeze a surface membrane in the dancefloor which works a flywheel to generate voltage, which is then fed back into the system to light it." If you can't see your date, just dance harder and brighten up the room. (via The Wall Street Journal).
3. Must be the Shoes (part III): The Consumer Product Safety Commission reported this week that Heelys (shoes with wheels in the heels) caused 1,600 emergency room visits, 64 injuries and one death from September 2005 through December 2006. Wear your helmet, Mr. Mickey!
4. According to the Atlantic, the price of cocaine is falling dramatically. Perhaps diverted by the hunt for terrorists, the DEA claims that the price of a gram in New York City was $20 to $25 in 2005.
5. When you're to trying come down, consider a Mediflow pillow. Its inventor claims that the "patented water-based design therapeutically relieves chronic neck pain" and that you will wake up feeling "rejuvenated, soothed and energized."
6. Or, better yet, skip the powder and the pillow and go to www.i-doser.com where you can download 30 minutes of aural stimulation for $3.75. Their version of "cocaine" supposedly induces a "simulated state achieved through the use of advanced binaural methods." And, like rap music, it comes with a warning: "This one comes close." Sgt. Pepper comes close enough for us.
7. Apparently, someone doesn't like Knocked Up.