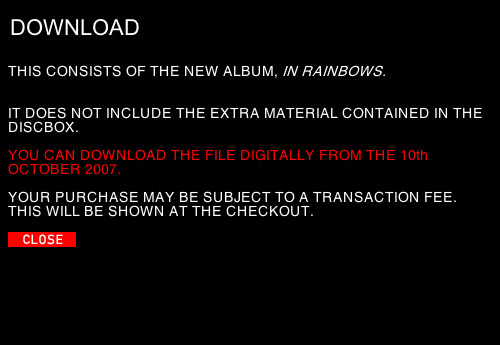 1. Radiohead has not only upset the music biz applecart, they are also stomping on the apples. The group, whose major label deal recently expired, is selling their new album exclusively as a digital download (via their own website and not iTunes) from October 10 until December 3 and you can pay whatever you want. This has set off a media analysis not seen since the sub-prime mortgage meltdown with everybody from the Wall Street Journal to the New York Post gleefully searching for the last nail in the record industry coffin. An editorial in the LA Times sees the move as "a rare show of faith in fans to pay for the things they value" while biz pundit Bob Lefsetz posts on his blog, "this is the industry's worst nightmare."
2. According to musicnation.com, New York street performer The Naked Cowboy makes $1,000 a day singing in Times Square wearing nothing but tighty whiteys and a cowboy hat. Hopefully the IRS doesn't read musicnation.com.
3. Downtown restaurant/cabaret Mo Pitkins is closing for good on October 20 (boo!) and a former manager of award-winning Meat Packing District nightclub Cielo has opened a new DJ friendly venue at 174 Rivington called Label (yeah!).
4. There is an opening reception tonight (October 2) for an exhibition of five architectural projects/experiments conducted in Copenhagen since 2001 by the Bjarke Ingels Group. The exhibit will be up until November 24 at the Storefront for Art and Architecture at 97 Kenmare Street. The Storefront is also celebrating their 25th anniversary with a series of events held in a dome made from hula hoops constructed in the tiny park across the street in front of La Esquina. AND: Today is Bjarke's birthday so there is party after the opening at 205 (over on Chrystie St.).
5. The AP reports today that the Percy Julian Middle School in Oak Park, Illinois, has banned "hugs." Principal Victoria Sharts explains why: Hugging is really more appropriate for airports or family reunions."
6. Cavemen, the ABC television adaptation of the Geico commercial, premieres tonight at 8 p.m. EST. No screeners of tonight's episode were given out the press. But Alexis, who saw the pilot (which isn't the same as the first episode) said, "It really wasn't so bad. Incredibly weird -- but not bad!" One of the producers told USA Today that "We're not trying to change the world… Just watch it. We hope it's funny enough for a lot of people. But if you want to hate it, hate it." Mango salsa, anyone?