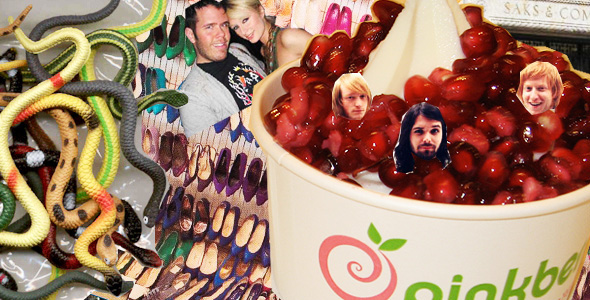 1. According to the AP, customs police at Cairo's airport yesterday arrested a man who was trying to board a plane with 700 live snakes. Let's make a movie...oh, wait. Done that. Maybe it's hype for a sequel.
2. Soup Kitchen 2007: If you are hungry on Wednesdays this summer and a bit skint, head over to the Whole Foods Market on the Bowery where they are having a weekly Block Party featuring free tastings and samples.
3. Celebrity blogger Perez Hilton discovers brand building! Newsweek reports the 2006 PAPER Beautiful Person "hopes to start a record label and launch a tour and program his own night at the South by Southwest music conference." Whatever happened to Madonna's vanity label?
4. We like to think of ourselves as music "know-it-alls" but we've never heard of Biffy Clyro. They are a three-piece rock group from Scotland, have released four albums and 14 singles with weird titles like "Toys, Toys, Toys, Choke, Toys, Toys, Toys" and have just been signed in America to Roadrunner Records. We assume that Roadrunner knows what they are doing since they have sold zillions of albums by an artist that wasn't a contestant on American Idol: Nickelback. What does Perez think?
5. Must be the shoes (part II): Saks Fifth Avenue's shoe department has been given its own ZIP code, 10022-SHOE. It is the first time (and we hope the last) that a floor has been blessed by the United States Post Office. And we were just getting used to customized postage stamps.
6. "Sorry ice cream, we're going to Pinkberry!" Because everything needs a theme song, the fab- franchised-faux-yogurt chain has their own. Performed by The Lady Tigra, the song has a pop-rap feel that is reminiscent of Tigra's early work with Miami bass act L'Trimm and their novelty hit "Cars That Go Boom." Wikipedia also tells us that Tigra was once the manager of now-shuttered NYC nightspot Spa/Plaid where Fancy from the group Fannypack was a DJ. Sorry wiki, but who cares. Via Idolator.