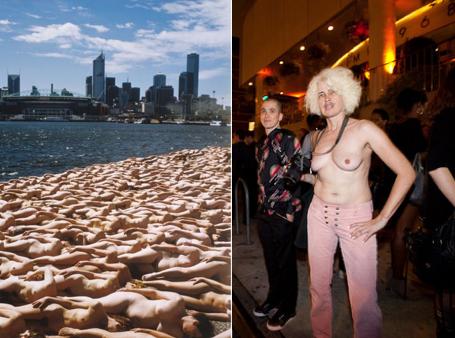 1. "Spencer Tunick photo shoots" ranked #8 in a list of Top Ten Nude Vacations. Burning Man was #4.


2. New York's MoMA is the latest museum to buy one of the six copies of artist Christian Marclay's video "The Clock." The award-winning 24-hour=-long piece supposedly sells for around $250,000 and took three years for six researchers to complete.


3. Sia co-wrote a song called "Trust" for Madonna's next album, due out in the spring.


4. Drumroll, please. The new #1 album in the country is 85-year-old Tony Bennett's Duets II with guest appearances by Lady Gaga, Mariah Carey and the late Amy Winehouse.


5. Reason number 837,532 to love NYC: We've got the best crazy characters -- like The Topless Paparazzi (see above) that covered last night's Seventh Annual Nightlife Awards.


6. Mick Jagger is going to play an international media mogul in an upcoming film called Tabloid.