Eight Items or Less: Nude-A-Palooza and Aquacrunk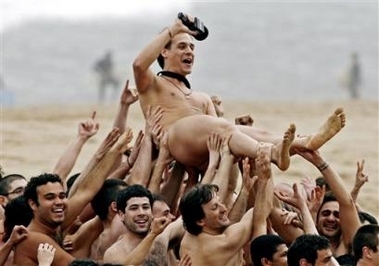 1. Cypress Cove Nudist Resort & Spa in Kissimmee, Florida, hosts Nude-A-Palooza on November 8. Performers include "former members" of Lynyrd Skynyrd, The Allman Brothers and Pure Prarie League who are welcome to return to their respective bands if they agree to wear clothing. (Just kidding about that last bit.)
2. Save the Lower East Side lists bars currently seeking liquor licenses in that neighborhood.
3. U2 is getting $19 million worth of shares of Live Nation stock as part of their 12-year deal with the concert promotion company.
4. Though we don't have a clue what they are talking about, The Guardian identified the following new music genres: trance hop, fidget house and aquacrunk.
5. Tomorrow night the Village Pourhouse is hosting the first ever Megatouch Erotic Photo Hunt
Tournament.
6. Guest of a Guest lists their fave spots for cheap eats in NYC:
New York Noodletown (28 Bowery)
Porchetta (110 East 7th Street)
Kalustyan (123 Lexington)
Joe's Pizza (7 Carmine Street)
Cho Dang Gol (55 West 35th)