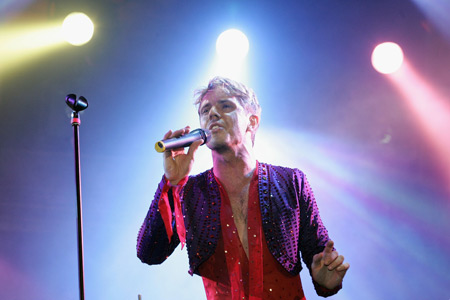 1. Scissor Sister Jake Shears makes a guest vocal appearance on a new track called "If I Can't" produced by Sasu Pipatti aka Luomo. PS: We're lovin' it. Listen here.
2. A musical version of Bret Easton Ellis's novel American Psycho is in development, with its sights set on Broadway. (via Variety)
3. London's Lazarides Gallery is popping-up for two weeks at 382 Bowery from September 26 to October 12. The group show, "Outsiders," includes Faile, Bast, Zeus, Paul Insect Jr. etc.
4. Steve Lewis's popular nightlife blog Good Night Mr. Lewis is apparently moving from "interactive marketing organization" Joonbug to Blackbook.
5. If you happen to be attending the Fair for 21st Century Art in Cologne on October 3 to 5, stop by the Strychnin Gallery booth (#BO2) and pick up a six-pack of Til Krautkramer's Meatwater. We fell in love with this satirist's work last year, but have to wonder whether he has actually manufactured any of his "meat flavored" beverages or is just teasing us again.
6. Don't go here expecting anything.