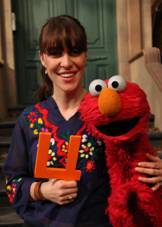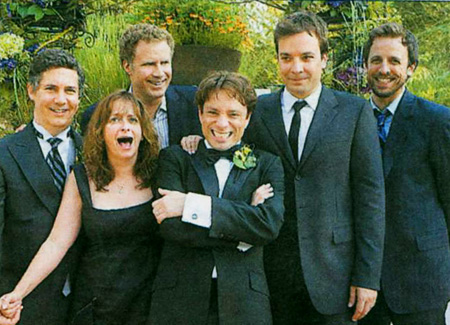 1. Set your TiVos! Feist is set to guest-star on the (39th!) season premiere of Sesame Street on August 11th. In addition to the Canadian chanteuse, other notables such as Will Arnett, Jessica Alba, David Beckham, Heidi Klum, Neil Patrick Harris and Jack Black will be stopping by the Street. And according to a press release we received, "Sesame Street continues in its play on pop culture with all new parodies including: 30 Rocks, Pre-School Musical and Are You Smarter Than an Egg Layer."
2. Stop by Santos' Party House tonight and be sure to look extra cute -- the stylish trio behind Opening Ceremony (Humberto, Carol and Olivia) will be DJ-ing.
3. Apparently, former SNL-ster Chris Kattan got married over the weekend to model Sunshine Tutt near Yosemite Park. Check out the photo above from the wedding -- that's a cavalcade of comic cuties if we've ever seen one!
4. Spike Lee will be filming the July 19th performance of Passing Strange. According to theatermania, "distribution for the film, to be produced by Steven Klein -- one of the show's producers and an investment banker -- has yet to be secured, though all options, including cable television are being explored."
5. Currently rocking our world: this photo of a bacon burger on a donut!