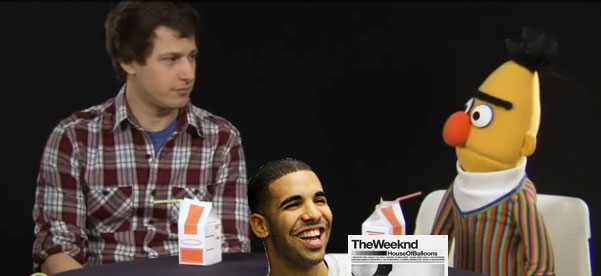 1. Hey, male celebrities are talking about gay sex a lot this week! Let's review:
Steven Tyler
, who is straight, says he once
slept with another man
. Crazy old turd
Ted Nugent
, also straight, says he is "
repulsed
" by gay sex but wouldn't mind if his son was gay.
Michael Stipe
, who is gay,
did not sleep with Kurt Cobain
and, lastly,
Scott Weiland
recently recalled
being raped when he was 12
by an older boy. (
Ed note: That, of course, is a little different than the other mentions we've included here and we don't think sexual assault is something to take lightly.
) As
Michael Musto
says in the
Village Voice
this week: "When you ask (a celebrity) for hot copy, they demur.  But as soon as a publisher dangles the dinero, they suddenly remember that grandma raped them." [Via NME, Contact Music and Hufftingon Post]
2.
Drake
is working on tracks with fellow Toronto artists
The Weeknd
. Check out this
cool video
for The Weeknd's song "What You Need."  We're not sure if it's an "official" clip or fan-made. What do you think?
3. Monkeys versus monkeys! Who will back down? India
is using langur monkeys
to keep rhesus monkeys out of government buildings at night. [Christian Science Monitor]
4.
Princess Beatrice
's
Phillip Treacy
"pretzel" hat -- last seen during the Royal wedding -- is being auctioned for charity
on eBay
. The auction ends on May 22 with bids already over $30,000.
5.
3rd Ward
's annual birthday BBQ is this Saturday, May 21, from 2 to 8 p.m., with music, beer, films, exhibits and more. Go
here
to RSVP.  Happy fifth, guys!
6. We love
the High Line
, but maybe not quite as much as
Andre Balazs
who
tells the New York Times
: "Walking on the High Line...feels like you're on your way to an orgasm."
7. If you're bored at work today, check out
Globe Genie
. It's like Chat Roulette, for geography freaks. (Who don't like looking at strangers' genitals.)
8.
Sesame Street's
Bert
interviews Andy Samberg
. [Buzzfeed]