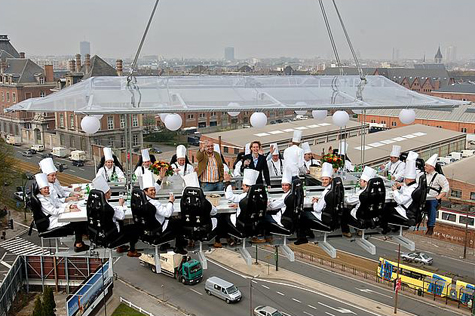 1. Starting tonight, you and 21 friends can eat dinner while suspended in the air from a crane. Waiter, may we have the check please: $11,444 excluding the food.
2. For Sale: Three Standard Hotels and one QT. Yes, Andre Balazs is selling them, but he wants to keep managing. (from Crains)
3. Popular Science reports that a man has discovered a way to set fire to saltwater by bombarding it with radio waves. Unfortunately the process uses more energy than it produces.
4. A recent call to retractable-roofed, Williamsburg-locatedRadegast Hall and Biergarten, revealed that either tomorrow or Wednesday they'll have a set opening day. Most likely it'll be next week.
5. The Duran Duran shows scheduled for tonight and tomorrow (November 12th and 13th) have been moved to Roseland (235 West 52 St.) due to the strike (stagehands, not writers).
6. New York club Lotus has been sold to the owners of New York club Tenjune.
7. A dead body was found in the men's bathroom of downtown music venue Knitting Factory early Sunday morning.
8. 1 + 1 = Halo! Boys who play video games after homework may have trouble remembering what they just learned, according to the Pediatrics Journal.