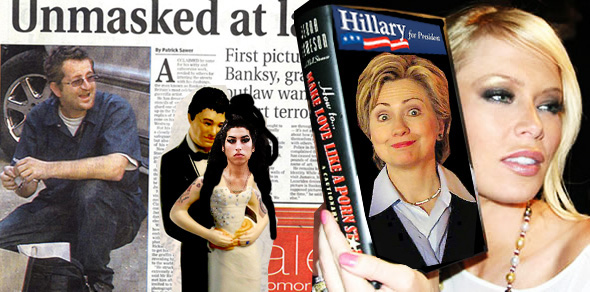 1. Breaking news: Banksy looks like a dude.
2. On Sunday night, (as we warned you) Britney Spears played a short concert in Miami. Here's what happened (via the Miami Herald):
- She requested two corsets from Frederick's of Hollywood for her dressing room.
- She drank "Purple Hooter" shots (vodka, Chambord and 7-up).
- She asked the DJ to play songs by Nelly Furtado.
- She "danced around like a crazy lady" and went to the bathroom "80 times."
- Her limo was ticketed for illegal parking
3. Meanwhile, on that same day in Miami, Amy Winehouse got married to her boyfriend Blake Fielder-Civil and didn't make him sign a pre-nup…
4. Audrey Tatou has been tapped to play Coco Chanel in a new biopic, slated to begin filming early next year. An odd choice, but we're rolling with it.
5. According to Eater, the Second Avenue Deli is reopening in five months, just a hop, skip and a jump from PAPER HQ, on 162 E. 33rd St.
6. We know you were wondering who porn star Jenna Jameson would be endorsing for president. The wait is finally over! She's backing Hillary.
7. So glad that How I Met Your Mother is being renewed for a third season! We hear that following Robin and Ted's break-up there's going to be a lot of dating going on come season three. Adding some new characters to the mix will be good –- not that we don't like the old characters, but by the third season, it's always a good idea to throw in some varie-tay.