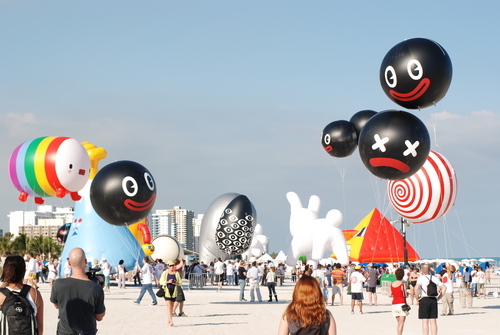 1. One of our fondest Miami memories is of seeing a dozen giant inflatable balloons parading down the beach during Basel 2006. These "Skywalkers" were the work of local art collective Friends With You, and we've since become... well, friends with them.  In fact they wrote a "Culture Vulture" feature on their city for PAPER's November 2008 issue.  During this year's Basel/Miami be sure to stop by their new "flagship boutique" in the Design District (3930 NE 2nd Ave., Suite 202).  The opening is on Tuesday, December 1, 6 to 10 p.m. and don't forget to "Shop Happy."

2. There are lots of new (and very expensive) restaurants in Miami but we'd like to recommend two reasonably priced spots that have just opened in an unlikely neighborhood downtown.  Ecco (168 SE 1st Street) serves Italian food with an emphasis on great pizzas and the other is a fantastic new Asian noodle restaurant called WokTown (119 SE 1st Ave.) were you can eat-in or take-out. Yum!

3. The STAGES exhibit sponsored by Nike, Lance Armstrong and O.H.W.O.W. is making its last tour stop in Miami at Marina Blue (888 Biscayne Blvd.) from December 4 to 6.  The show is similar to the version just up at Deitch Projects here in NYC, but will include works not previously shown by the Clayton Brothers, Erik Parker and Tomoo Gokita. The opening is December 3 from 8 p.m. to midnight.

4. Two brilliant young French artists are making an appearance on December 2 for the opening of a group show called "It Ain't Fair" (3100 NW 7th Ave.).  Cyprien Gaillard's film "Cities of Gold and Mirrors" will be accompanied by the live music of Koudlam.

5. Cool L.A. band Love Grenades ("Tigers in the Fire") are making their Miami debut at the hot new "secret" nightclub Bardot (3456 North Miami Ave.) on December 2.  Check 'em out.

6. PAPER fave DJ Jauretsi is spinning at a party for Intermix also on Wednesday, December 2 from 9 to 11 p.m. at Bar 721 (721 North Lincoln Lane, South Beach)

7.  The Miami pop-up of Max Fish is at 28 NE 14th St. near the Pulse fair at the Ice Palace.  Locals will recognize the location as the former site of recently closed hipster hang-out PS14.