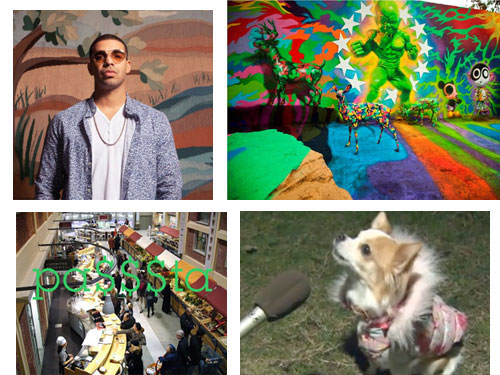 1.
Eataly
(200 Fifth Avenue) expects to gross $40 million a year, has as many as 12,800 customers a day and employs over 500 people. [
Financial Times
]
2.
Drake
-- one of GQ's Men of the Year -- is doing his first ever televised live concert from Radio City Music Hall on November 24 at 9 p.m. EST on FUSE.

3. A tiny chihuahua named
Momo
("Peach" in Japanese) passed Japan's police-dog exam and will become part of the most adorable search-and-rescue team ever. [
BBC
]
4.
Saks Fifth Avenue
unveils their holiday windows tonight, November 22, at 6:30 p.m. with a live performance by
Patti LaBelle
.
5. Ready for
Art Basel Miami
? Check out
these shots
of the wall
Ron English
did at 222 NW 26th Street in Miami.  We're trippin' (and can't wait to get our photo taken sitting on that deer). [Kid Robot]
6.
Pink Floyd
's quadraphonic mixing board (used on the Momentary Lapse of Reason Tour) is going to be auctioned in the UK on December 15. Its pre-sale estimate is $7,500 to $10,000. [
ArtDaily
]