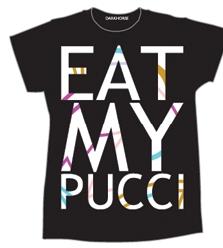 I'm not a fashion maven by any means, but some things do tickle my fancy every now and then that I must share with the world. Case in point: Darkhorse. It took me quite a while to track down this designer from Toronto.
It all started when I was reading an LA blog and happened to notice a girl in a photo wearing what quickly became my obsession -- a t-shirt reading "Eat My Pucci." I decided that I had to have it. After a month (I kid you not) of scouring the Internet I finally found it, met the man behind the shirt and got myself one. Phew!
And that's my story. Check out his website for more amazing clothes.