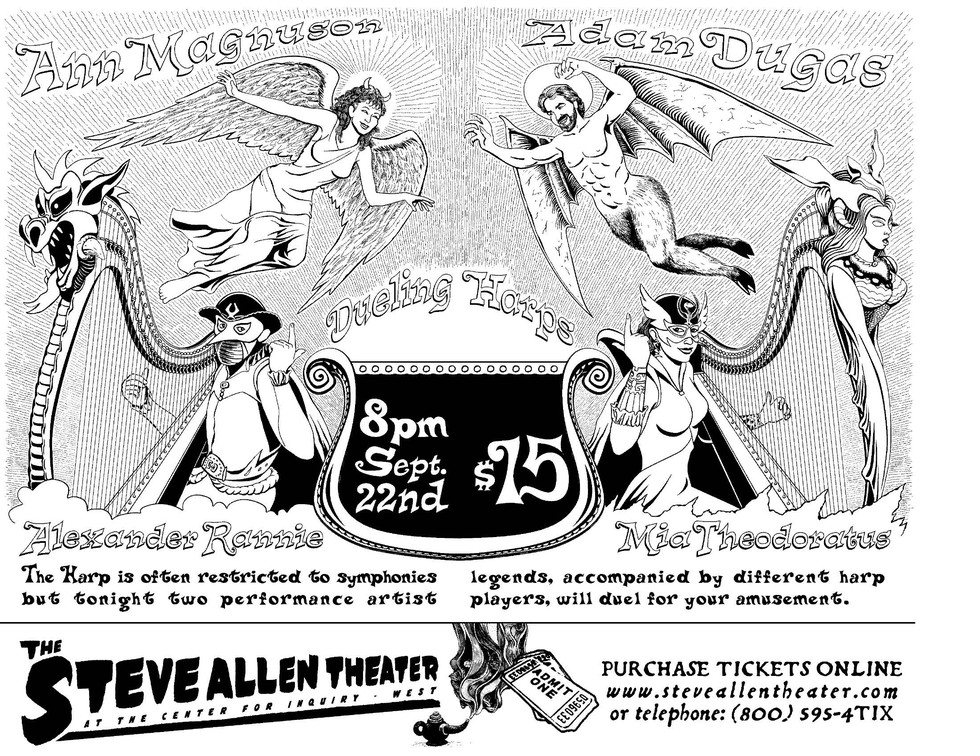 Former Citizen Band member and dashing New York performance fixture Adam Dugas and I musically battle it out in DUELING HARPS, a brand new show co-starring our devilishly angelic harp players Alexander Rannie and Mia Theodoratus. This ONE NIGHT ONLY event happens this Saturday night at 8 p.m. at The Steve Allen Theater! Adam and Mia are coming out from NYC for their Los Angeles DEBUT! So Alex and I will give them a traditional Hollywood welcome by immediately engaging them in an "Anything You Can Do We Can Do Better" West Coat/East Coast showdown!
It is going to be a psychedelically sophisticated evening of weird covers, beautiful melodies and a few Bongwater tunes. And plenty o' suprises! Set list includes tunes by Handel, The Smiths, Pink Floyd, Purcell, Lee Hazlewood, YoHaWha13, Buffy St. Marie, Debussy, Kraftwerk, T. Rex, Ravel, an anonymous Elizabethan poet and, of course, George Jones & Tammy Wynette!
ONE NIGHT ONLY! FUN FUN FUN in the ever-increasingly HIP HIP HIP Steve Allen Theater (where there is LOADS of free parking in their very own parking lot -- an L.A. dream come true!) The Steve Allen Theater is located at 4773 Hollywood Blvd., Los Angeles, California 90027. Order tickets through the website or call 1-800-595-4TIX!
Illustration (from the comic-book collectible Steve Allen Theatre brochure) by Rick Whitmore