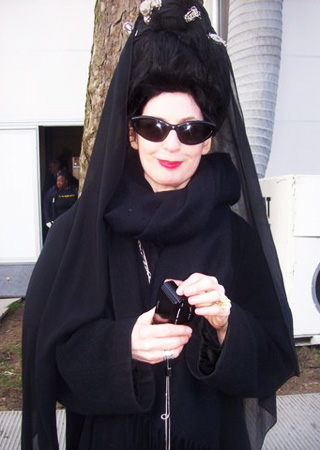 At every Fashion Week, in every city, there are always a few: those people who have mastered the art of looking very important without having a project or profession to back it up. Fortunately, style without substance isn't a problem for Diane Pernet. She's known for her head-turning wardrobe (and her trademark mantilla), but she's legendary for a fashion career that's taken her from New York to London to Paris. The fashion designer/filmmaker has lent her visionary style expertise to a laundry list of publications including Vogue Paris and Elle.com. These days, she's blogging about all things style for her own blog, A Shaded View On Fashion and helming the fashion networking site IQONS and the recently launched magazine of the same name. We caught up with her after the Meadham-Kirchhoff show to talk style, success and selling out.
Zandile Blay: Yes! We've been stalking you forever so it's a real pleasure to finally meet you. How are you enjoying the shows today?
Diane Pernet: Today has been a really good day. I really loved Christopher Kane. It was so refined and had so much scope. There's always so much hype around him, but it's so nice to see that it's not just hype -- there's real talent there. The only problem is that London may not be able to keep a hold of him, so it's a sad story. Usually when someone is that talented it's inevitable that they'll go elsewhere.

ZB: You've been in this industry for a while, so your experience has definitely helped you form your opinions...
DP: Yes. I used to have a column on Elle.com called "Dr. Diane." I was also contributing to Vogue Paris and had a column there called "Diane's Diaries."
ZB: So what made you decide to move on to your own blog?
DP: All those columns were geared towards events. I thought it would be ideal to cover fashion, designers, boutiques and all things fashion across the board and across the globe on a daily basis. I just wanted to give equal time to different topics.
ZB: So speaking of covering things across the globe, what do you think of fashion in New York?
DP: Hmmm... I was a designer thee for 15 years. On one level there are a lot of independent designers there. But I think it's difficult to be successful in New York without being mass. A perfect example is a label which just showed this season. They got their best reviews from the press this time around but it wasn't their best collection. It was just their most commercial. But that's the way it goes isn't it?