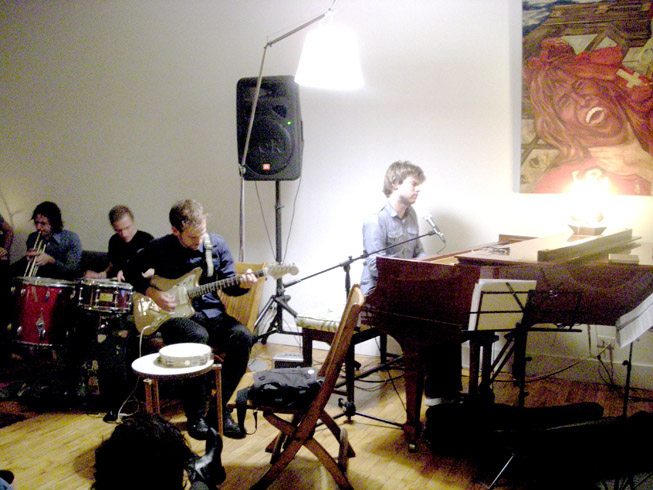 Thomas Bartlet
t is used to sharing the spotlight.  As the founder and single steady member of the ever-changing indie super-group
Doveman
, he's a sort of musical maypole -- a fixture around which other artists rally to celebrate their craft. 
Norah Jones
,
Sam Amidon
,
Nico Muhly
, most of
The National
, and a host of other well-known musicians pitched in on his latest full-length release,
The Conformist
, which hit stores last Tuesday.  It's a haunting, ethereal, and beautifully melodic album, and Barlett's airy voice is the undeniable show-stealer -- which begs the question: does he really need all the help?
At the album's release party in a friend's Chelsea apartment on Friday night, Bartlett again split the bill with some well-known musical pals. Hunched over a grand piano and accompanied by a string quartet, he performed a handful of songs from
The Conformist
before dismissing his accompanists and inviting up some other musicial guests:
Sean Lennon
and his comely girlfriend
Charlotte Kemp Muhl
; honey-throated chanteuse
Jennifer Charles
(of
Elysian Fields
); musician-cum-performance artist
Justin Bond
(he of
Kiki and Herb
fame); and folk songstress
Dawn Landes
.  Oh yeah --
Bryce Dessner
of The National lent some guitar accompaniment while cross-legged on the floor, and
Sufjan Stevens
' trumpet player
C.J. Camerieri
contributed some well-placed solos from the couch.
The creative camaraderie seemed too perfect to be true -- and then the host revealed that Bartlett's first visit to the apartment had been for a musical salon held there.  Suddenly, Doveman's come-as-you-will composition made a lot more sense.