Don't Sleep on This Look Back at the Golden Era of NYC Party Flyers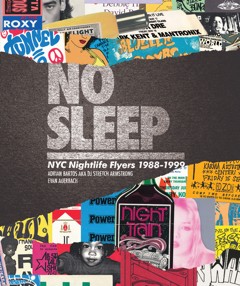 Before Facebook disrupted event announcements and invitations, printed flyers were the way to go. Every club and promoter used them to herald upcoming parties and DJs. They would Xerox a few hundred b&w sheets, or spend big money on thousands of extravagant, 4-color die-cuts. From the Limelight to Red Zone, owners hired kids to hit the nightlife circuit, scoop up the competitors' flyers and leave their own behind. By the end of the night, they covered the tables and floors, and then, while you tried to find a cab home, what became know as "street teams" would thrust more handfuls in your direction. You either accepted gratefully and sorted them out later, or tossed them aside to litter the surrounding blocks.
It's probably a little absurd to claim "you don't know what you missed," but after a look at the incredibly creative, informative and historic info revealed in No Sleep: NYC Nightlife Flyers 1988 - 1999 (powerHouse Books), it is tempting to call those years The Golden Age of Club Flyers. The book is the work of New York DJ, producer and radio personality Adrian Bartos (aka Stretch Armstrong) and hip-hop historian and blogger Evan Auerbach. Plus there's an intro by Mark Ronson and essays from Peter Sibilia, Moby, DB Burkeman, Fab 5 Freddy, Jonathan Shecter, Nelson George, Kenny Kenny and many others. Sounds like a great holiday gift. Pick up a copy HERE and check out some choice examples of the party flyer genre in the slideshow below.