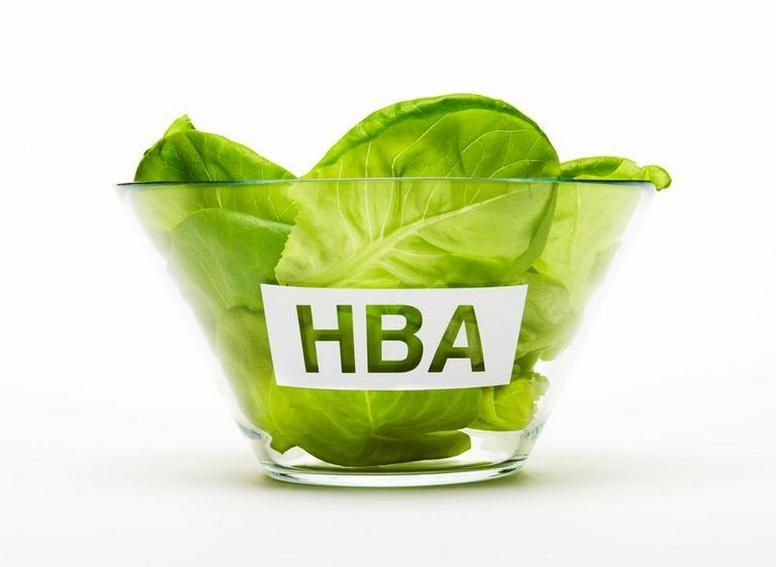 Hood By Air, Salad Bowl
If you happened to be walking by Chelsea's Red Bull Studios last Thursday, you would've noticed an interesting sight: Nike-clad art school kids dodging between rope course installations to get a better look at hand-painted, knock-off Adidas tracksuits or toilet paper cleverly hung to resemble a zen waterfall. Welcome to
DISown: Not For Everyone
. A new art show-cum-boutique by the DIS Collective and curator Agatha Wara,
DISown
takes its cues from the fashion world's tradition of partnering with big-box retailers to create affordable mass-market pieces. Playing with the idea of diffusion lines for artists, the show lets visitors scope -- and buy -- things like a
mobile trashcan and office planter
by artist Lizzie Fitch, a
salad bowl by Hood By Air
or a
Maje Cule-designed folding chair
intended to "maximize intern productivity."
Chanel and Jeremy Scott
may have elevated supermarket logos to the runways of high-fashion, but Wara and DIS aim to bring high art down a few notches.
Formed in 2010, DIS -- like the prefix implies -- is oppositional.
DIS Magazine
, the main platform for the collective, approaches art and fashion with a critical wink. While top-knots are permanently trending at
Vogue
, DIS Magazine features trends like the
"shoe bra"
and the
"boyfriend hood"
(because "boyfriend jeans" are too committed). Most often, their aesthetic can only be described as "very DIS" but visitors to their site are likely to pick up on the collective's fascination with -- and inspiration from -- stock photo imagery. At one point, the group even turned The Suzanne Geiss Company gallery into a fully operational stock photography studio where they tapped contemporary young artists like Ryan Trecartin, Takeshi Murata, Anne De Vries and others to create images for
their very own stock photo
site.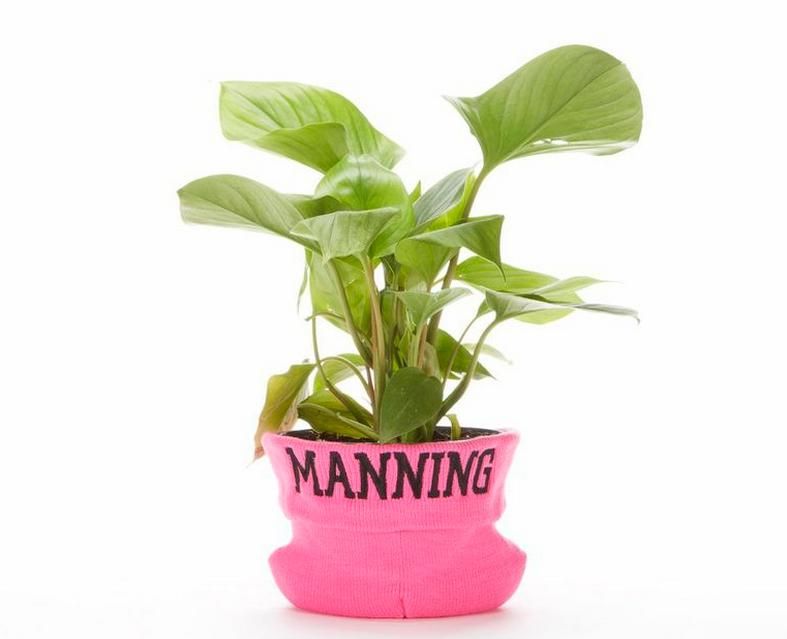 Jogging
, Whistleblower Beanie/Flower Pot
And this subversion of mass-market or corporate culture extends to
DISown
. The first thing you notice when arriving to the gallery are floor-to-ceiling length skinnings that announce the show but look more like flyers for a corporate-sponsored 5k run. Inside, IKEA-esque iconography on the walls direct the viewer throughout the "store" and give off the feeling that the gallery exists as a jungle gym for concepts. Walking past artist-designed clothing hanging from rope-course structures like those you'd find at "team-building retreats," guests encounter a functional rock-climbing wall that everyone is encouraged to try.
The show cleverly illustrates DIS' ethos of wanting to disrupt existing hierarchies in the art world and to work outside of traditional art economies. In doing so, it also addresses issues about the financial sustainability of being an artist in New York. "There's a lot of practical reasons to merge business with art," co-curator and member of the DIS collective, Lauren Boyle, says. "You actually do need money to live. There's nothing wrong with making something and selling it."
DISown Infomercial

Although many artists recognize the need to explore new models of survival, much of the traditional art world still attempts to hold on to their rigid boundaries between art and commerce (excluding projects involving business from grants and public arts funding). But "this romantic view of art can't interact with the realities," Wara asserts.
And as corporate ventures look more like art and and art shows start to look more like boutiques, the curators question exactly where this leaves the artist. "I think it's about finding potential," Wara says. "Finding out how we can negotiate differently, how we can make parameters for ourselves that give us new agency." says Wara.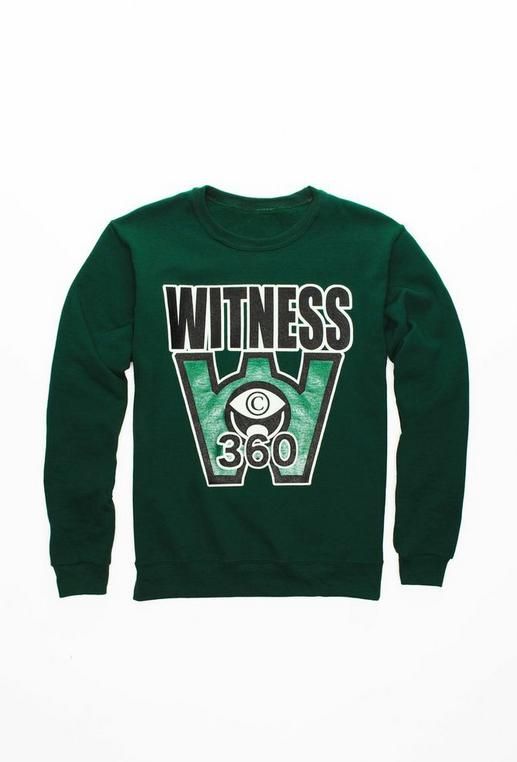 Lizzie Fitch/Ryan Trecartin with Murphy Maxwell,
Witness Night Vision 360
Sweatshirt 
Beyond questions of commerce, there are other ways the contemporary working artist cannot afford to be precious. In a time where artists can exist as personal brands online, with thousands of Twitter followers and enthusiastic fan bases, DIS' retail space functions as an ingenious way to capitalize on that clout. Lizzie Fitch and Ryan Trecartin's
Witness Night Vision 360
sweatshirts -- a replica of the uniforms that the crew wore in Trecartin's short film,
Junior War
-- serve as a compelling example of the show's central question: what is the future of artists licensing their brand or name recognitions to consumable goods? In the most extreme case, shows like
DISown
could exist like movie-franchise rides at Disney. The art audience could commune in the experience and then take home a souvenir from the gift shop.
But the exhibit isn't as welcoming as Disney. Though the idea of a diffusion line exists to bring luxury goods to the masses, DIS, as their tagline playfully acknowledges, isn't for everyone. On the Thursday opening, the Chelsea space was packed from wall to rock-wall with art school kids and insiders. And, while a broke art student might wander in and purchase a Whistleblower Beanie/Flowerpot, the fact remains that an unsuspecting tourist probably wouldn't. Access to knowledge and a sense of "coolness" are still relevant status markers here.
Though even that is up for grabs. Thanks to the Internet, access to the show -- not to mention the consumer goods -- will soon be open to everyone. Once the exhibit closes, DIS plans to open up an online marketplace so even if you didn't make it out to Chelsea, you can still snag an Emma Watson body pillow.
All photos courtesy of
DISown: Not For Everyone