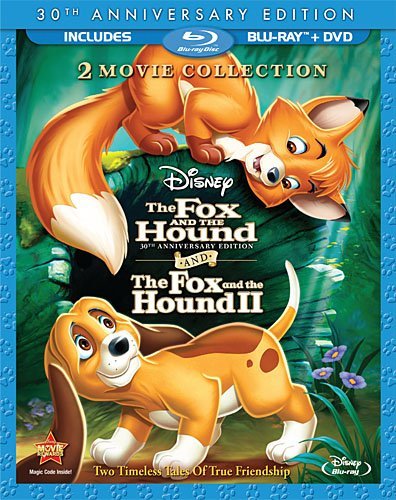 As much as I love horror movies and thrillers, I still have a soft spot for the older, pre-'90s animation of Walt Disney studios. This newly released Blu-ray 30th Anniversary Edition of
The Fox And the Hound
(Disney) does the trick for me. In an effort to attract adults and children, newer animated films are sometimes too smart-ass and snarky for their own good but older Disney films tend to have a sweetness and lightness to them that's refreshing. This 1981 film loosely based on a novel by
Daniel P. Mannix
is about two unlikely pals -- a red fox named Tod and a hound dog named Cooper. Everyone tries to teach them to be mortal enemies but the animals grow up playing and blissfully enjoying each other. Years later, however,  this memory is put to the test. With voices from
Kurt Russell
,
Mickey Rooney
,
Sandy Duncan
and
Pearl Bailey
, who's hilarious as an owl, there's a great look and feel to this film. (At the time, it was one of the most expensive animated movies ever.) The Blu-ray includes the straight to DVD 2006
The Fox And The Hound II
, but all the Disney animated knockoff sequels are pretty lame.