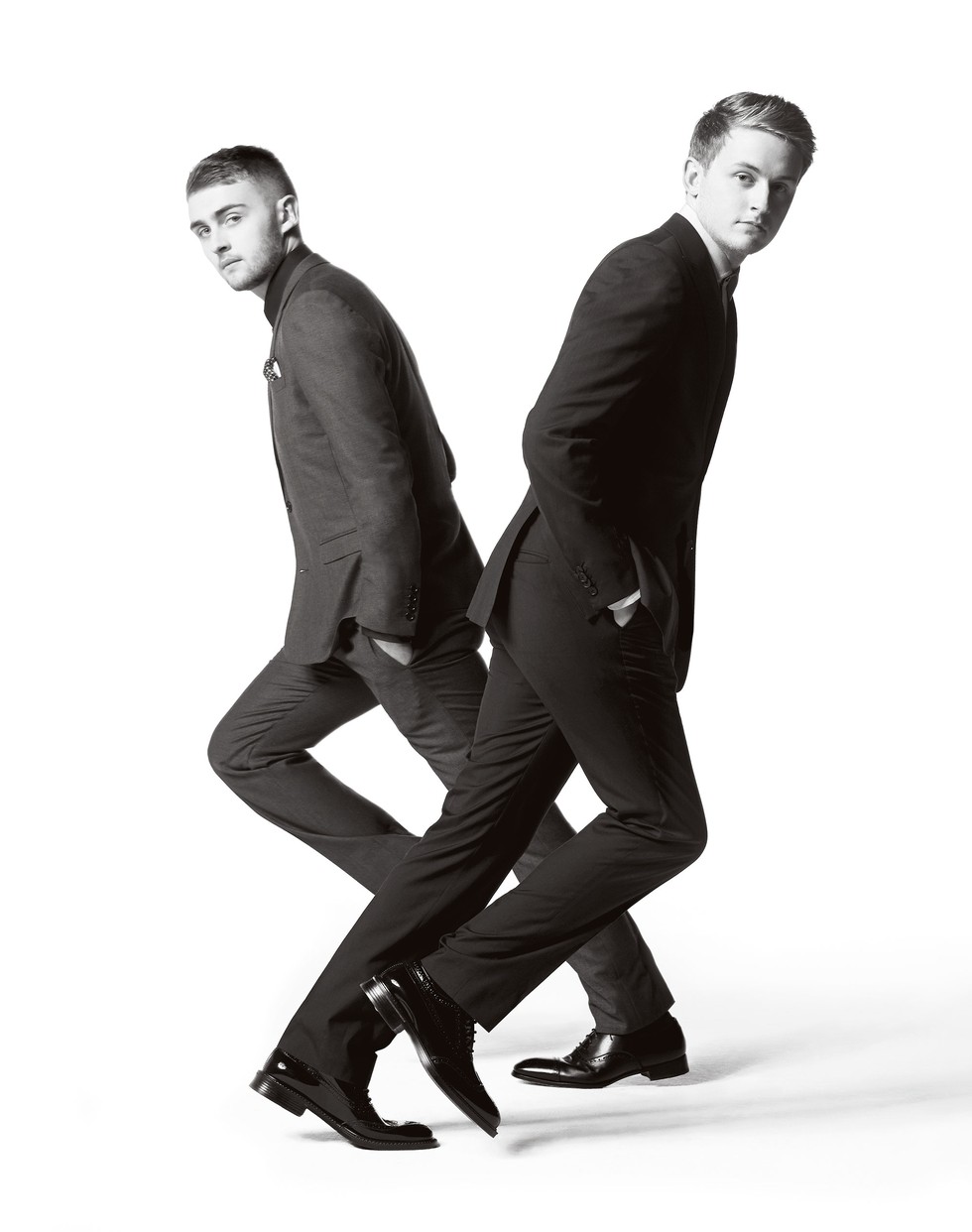 Disclosure (l-r) Howard wears a suit by Dior, shirt by Dolce and Gabbana and shoes by Max Verre. Guy wears a suit by Z Zegna, shirt by Sand Copenhagen and shoes by Vivienne Westwood.
Guy and Howard Lawrence uploaded two songs -- "Streetlight Chronicles" and "Offline Dexterity" -- to their MySpace page in 2010 with no intentions of anyone hearing them. They were 18 and 15, respectively, and picked their DJ/producer moniker after randomly seeing the word on a stack of papers near their computer. But in the four years since, Disclosure have refined their unique blend of old-school UK garage and house music and seen it captivate the dance floors, the Billboard charts, the Grammys and even Mary J. Blige, who recently remixed their track "F For U" with her own lyrics and legendary hip-hop/soul melodies.
The duo have found a niche in writing sticky, R&B-influenced pop songs over funky, electronic beats and altering the dance music concert experience (they play live and sing during their shows); they've also become the leaders of a less aggressive shift in dance music. While a majority of Top 40 electronic music acts are overly calculated and ultimately lack longevity and growth, some have the talent that actually make people keep listening after they've left the club. It's been a year since the Lawrence brothers released their debut album,
Settle
, and everyone from music critics to SoundCloud geeks are eager to know which path Disclosure will take.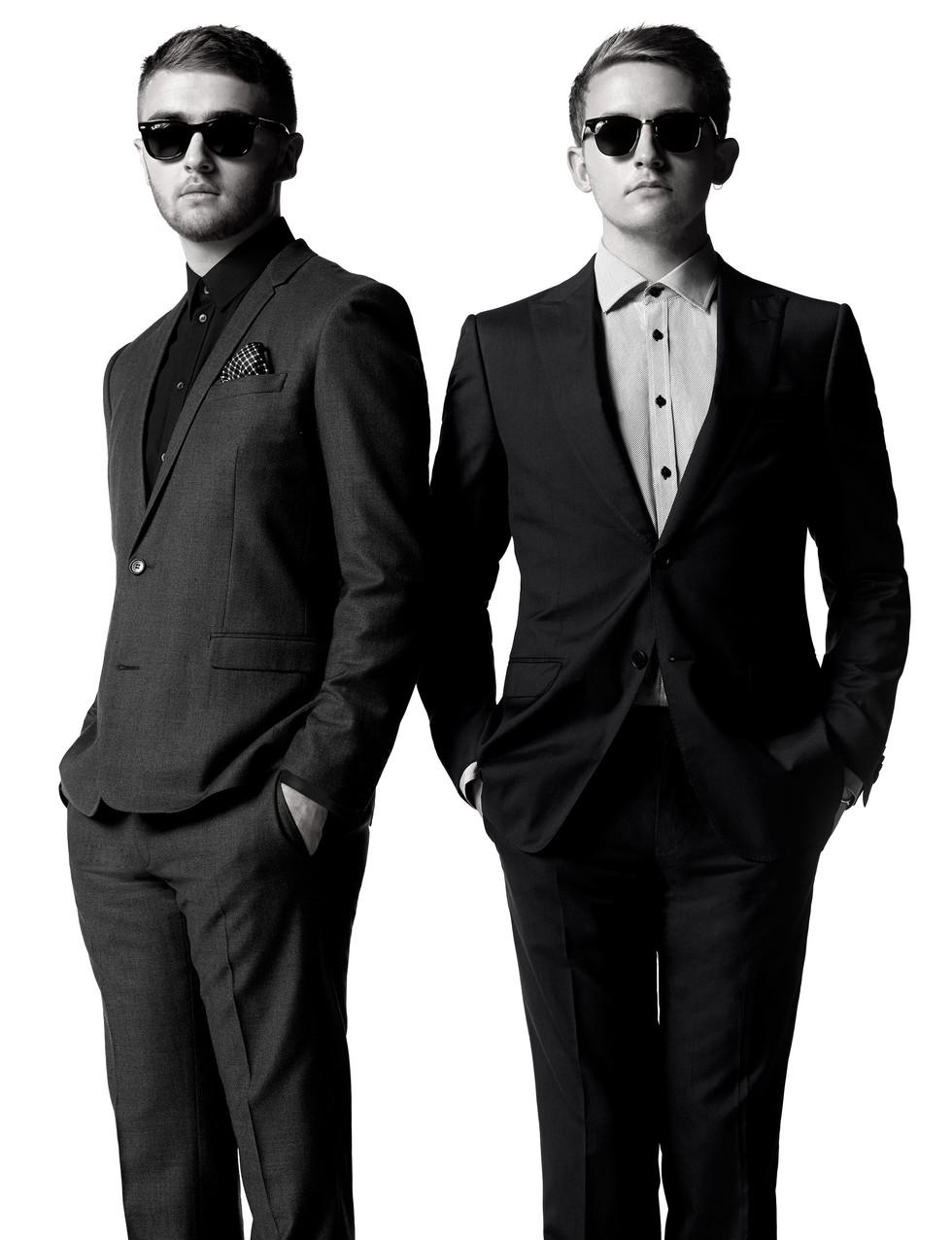 (l-r): Howard wears a suit by Dior, shirt by Dolce and Gabbana, shoes by Max Verre and sunglasses by Ray-Ban. Guy wears a suit by Z Zegna, shirt by Sand Copenhagen, shoes by Vivienne Westwood and sunglasses by Ray-Ban.
One thing is for sure -- making music is innate for Howard and Guy, who are now 20 and 23 years old, respectively. Their dad plays guitar and sang in a rock band, while their mom plays the piano and performed covers of soul and funk songs on cruise ships. By the ages of three and eight, the brothers were making their own sounds with a drum set and bass guitar. Guy went on to take drum lessons and learned to read music while Howard took classes on music composition and music theory. Both studied classical music while in A-level college. That said, most of their music education has been self-taught. "We'd get home from school and we'd both just lock ourselves in our room just learning stuff and listening to songs that we liked and working it out on our instruments," says Howard. "It's quite rewarding when you listen to a song you like and are able to play the whole thing through."
Though they grew up hearing their parents' '70s and '80s pop and soul music, Howard and Guy took slightly different paths when it came to the music they chose to listen to. Howard, the more laidback of the two, was drawn to UK singer-songwriters like Peter Gabriel, Kate Bush and Sting, while Guy was more into hip-hop and cites J Dilla as one of his favorite producers. He also played the drums in an indie rock band with friends.
But ultimately what would become the biggest influence on Disclosure's sound was the music Guy would hear while sneaking into nightclubs in London or Brighton. Grime first caught Guy's ear and from there he became interested in dubstep. But it was house that eventually propelled the brothers to create their own electronic music.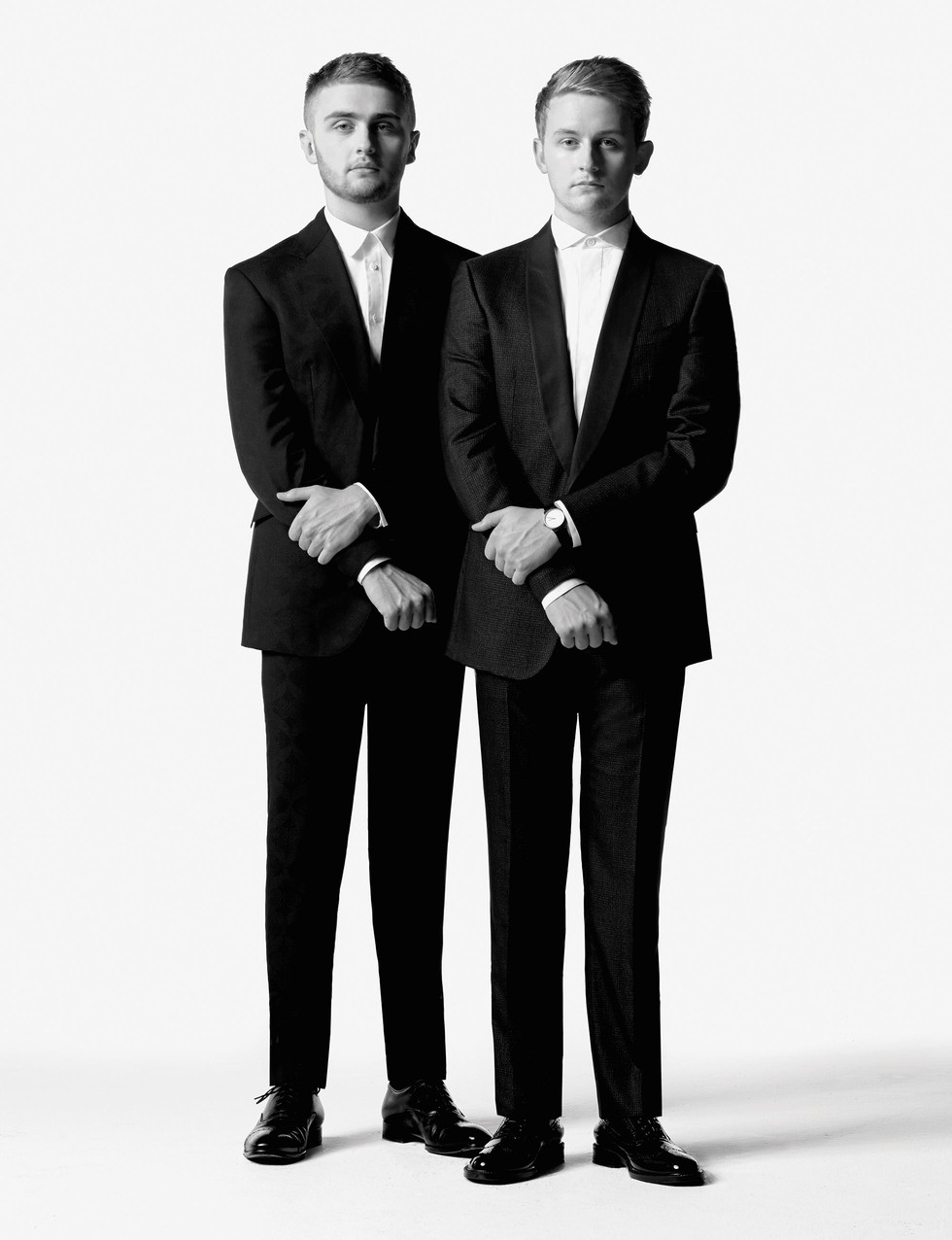 (l-r): Howard wears a suit by Vivienne Westwood, shirt by Sandro, shoes by Max Verre and belt by Emporio Armani. Guy wears a suit by Z Zegna, shirt by Dior and shoes by Vivienne Westwood.
With Howard producing and mixing and Guy writing the songs and melodies, the whole concept of Disclosure just made sense. So too did their decision to bring original vocals into their work. "We grew up on pop music and soul, and fully structured songs with choruses and verses -- not dance music," Guy explains. "We knew about songwriting, we knew about melody writing, it was always going to be about songwriting somehow, we were just kind of waiting for the right moment to step out."
Though the brothers are still young, they have something that many artists spend years trying to find -- assurance. Of their creative process, Guy says that "the only reason anything [gets released] from Disclosure now is because me and Howard like it." He adds, "Maybe some of our friends like it or our mum likes it. If your mum likes it then someone out there is going to like it. That's our process."
The Lawrence brothers are confident in knowing what they want, believing in the music they put out, and making sure they are still making it for the reason they started in the first place -- to have fun. "We're not really feeling any pressure. We're just going to write for fun, the same as we always do. If people like it, they like it. If they don't, they don't," says Guy. "We're not going to try and move with the scene if the scene changes. We're not going to become something we're not. We're just going to do what we do, and continue the Disclosure sound."
Styled by Art Conn

Grooming by Traci Barrett for The Rex Agency using Davines

Stylist's Assistants: Artemis Jafari, Samantha Czubiak and Myda Noriega

Photo assistant: Pedro Zalba / Shot at Quixote Studios in LA