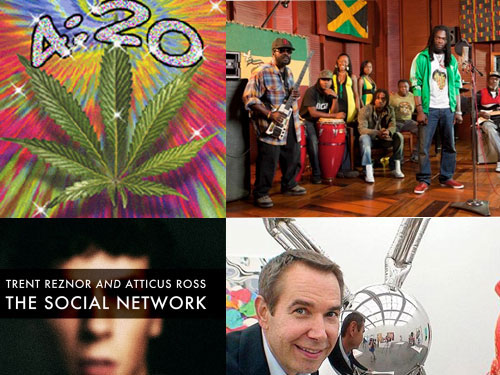 1.
Why is a bag of weed always $10?
2. Hot party-promo team
Good Peoples
are back at our fave NYC venue 88 Palace (88 East Broadway at Forsyth) with a LuckyMe party this Friday, September 24, 10 p.m. - 4 a.m.).  Warp Records' artists Hudson Mohawke and Rustie are DJing along with Mike Slott, The Blessings, Lunice, Jacques Greene, Eclair Fifi, Machinedrum, Cubic Zirconia and Azealia Banks (XL).  All for only $15.
3. Log on to the
Outrace website
and you can operate one of eight giant robots that are in Trafalgar Square in London until Thursday, September 23.  The bots will light the sky with your message using 3D LED lights.
4. Listen to five
Trent Reznor
and
Atticus Ross
tracks from
The Social Network
here.  The film opens on October 1.
5. Nine paintings and one sculpture from
Jeff Koons
' controversial 1990 Venice Biennale exhibit will be on view at Luxembourg & Dayan (64 East 77th Street) from October 6 to January 21, 2011.
6. American fashion designer
Ruth Harkness
brought the first live panda, Su-Lin, out of China in 1936. (via
Financial Times
)
7.
The Wailers
are playing B.B. King's Blues Club (237 West 42nd Street) tonight, September 20.  They just released their first single in 16 years.