Designer Manon Kündig Shows Us What a Swiss-YouTube-S&M Fashion Mash-Up Looks Like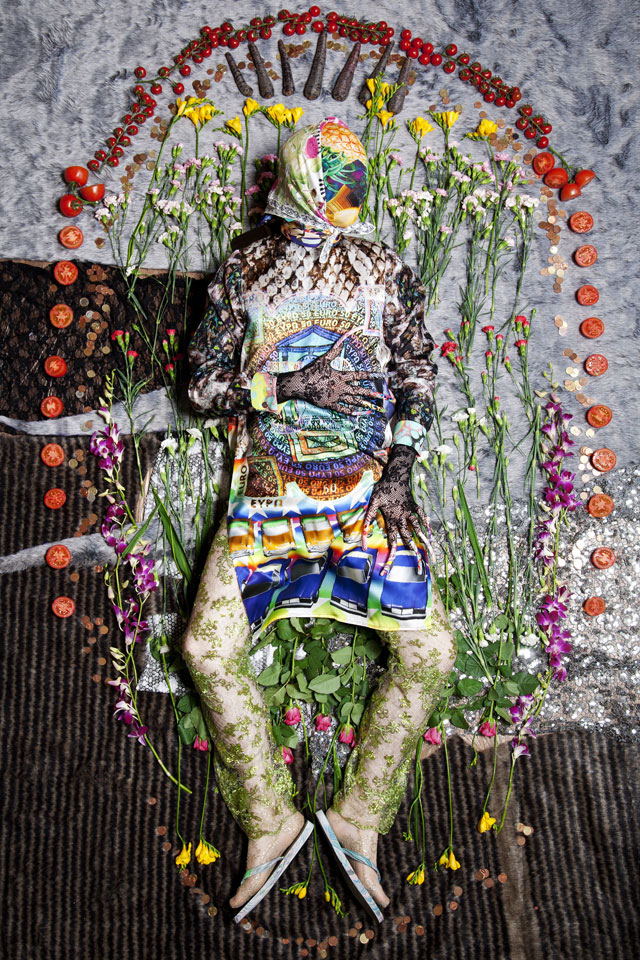 A Bowerbird is a species of passerine that gathers colorful scraps to attract its mates. It's also the inspiration behind the captivating, surreal spring collection from menswear designer Manon Kündig. A self-described gatherer, Kündig's wide range of influences include ev- erything from the meticulous look of her Swiss hometown where "the trees were trimmed to exactly the one thousand meter altitude line," to the Moroccan neighborhood in Antwerp where the 29-year-old lives, resulting in precisely stitched kaftans and fringed, patchwork jackets.
For her latest "Bowerbird" collection she's also added a new bondage fetish and an obsession with the Internet seen in her silk face wraps and all-encompassing acid color prints that mash-up kit- tens, pineapples and race cars. Her Google image search benders and late-night photo manipulations have caused some work-related injuries, "I'm still recovering from an epileptic [seizure] and mouse arm," she jokes. But it was worth it. Having just graduated this past Spring from the prestigious Royal Academy of the Arts in Antwerp, Kündig--with her YouTube-era explosion of clashing digital col- lages and high/low fabric pairings, producing looks that could be described as S&M meets Joseph and the Amazing Technicolor Dreamcoat on an LSD binge--has already caught the attention of fashion's forward thinkers. Not least of which is the iconic Belgian designer Walter van Beirendonck, who took Kündig under his wing. "Among other things," she says, "Walter taught me that 'excessive' is not a word."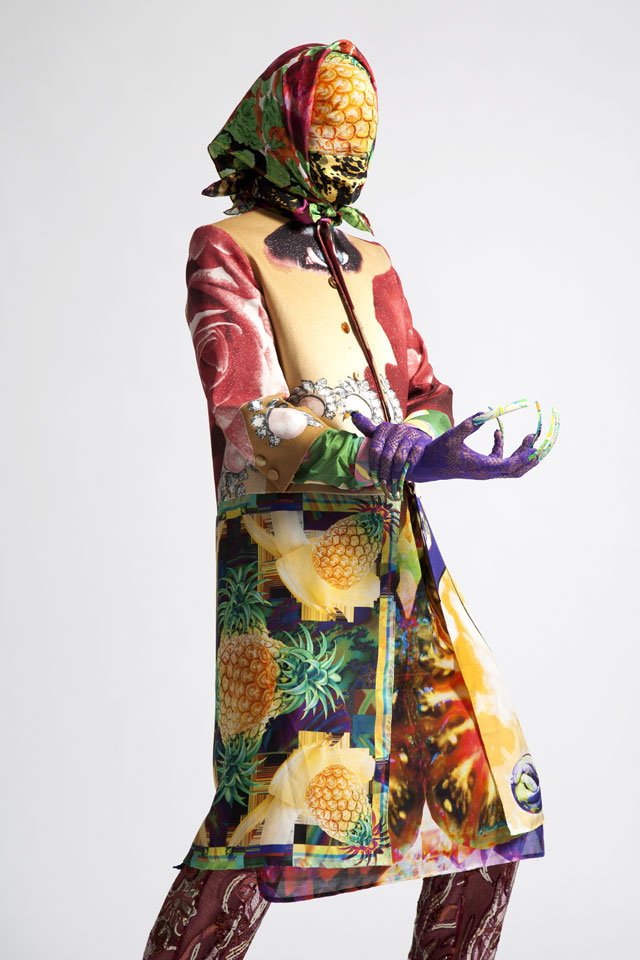 Looks from Manon Kündig's "Bowerbird," Spring 2013 collection